Employee Rewards & Voluntary Benefits
Driving employee engagement and loyalty with

digital gift cards
Transform your employee incentives and benefits program with digital e-gift cards from 2000+ global brands and inspire a more productive, motivated workforce.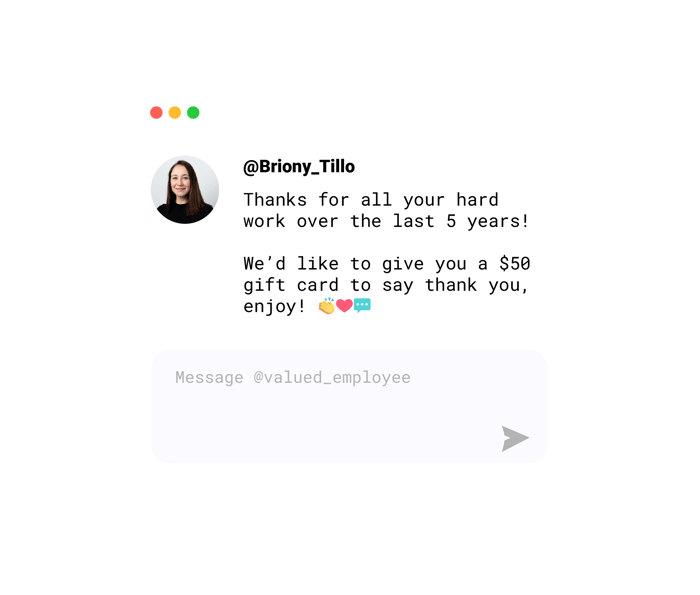 One integration, global connection, endless opportunities
Employee Rewards & Incentives
Boost performance with meaningful employee rewards
Leverage the power of digital gift cards in your recognition program to enhance productivity, retain talent, and motivate desired behaviors.
Motivate
Ignite motivation with rewards that truly mean something to each individual. Tailored rewards foster a sense of appreciation and motivate employees to aim higher.
Engage
Stimulate proactive action with engaging performance incentives. Let your workforce know their effort is valued by giving them something worth working towards.
Delight
Enhance loyalty and foster deeper connections by providing rewards that reflect their personal preferences. It's not just a token of appreciation, it's a thoughtful gesture.
Employee Benefits
Offer stand-out benefits that go beyond salary
Gift cards offer substantial non-cash benefits to employees as part of a wider rewards and recognition package.
Variety
Offer a benefits package that appeals to everyone by integrating with Tillo's network of 2000+ global brands.
Choice
Empower employees with the freedom to choose their reward by exploring Tillo's ChoiceLink solution.
Savings
Help your employees make their salaries go further with exclusive gift card discounts from top-tier brands.
Technology you can trust
Experience the versatility of Tillo's Platform
Explore powerful tools and tailored solutions optimized for the unique needs of Employee Rewards and Voluntary Benefits programs.
Buyer Hub
Browse and connect with new gift card brands, manage available funds, and access advanced real-time reporting, all from within Tillo's Buyer Hub.
API
Seamlessly plug into 2000+ global brands with our award-winning gift card API. One contract, full access to our ever-growing brand catalog.
RewardPass
Offer ultimate flexibility with our open-loop prepaid Visa or Mastercard. Available in multiple currencies and accepted at over 32 million locations.
Wrappr
Create memorable experiences by transforming a digital gift card into an exciting, memorable experience with our Wrappr delivery.
What next?
From hiring the best talent to rewarding career milestones, discover the real-world impact of our platform or browse related resources below.