Digital Gift Cards
Unleash the potential of digital gift cards as

rewards
Discover a world where digital gift cards are more than just a gift with Tillo's award-winning platform and gift card API.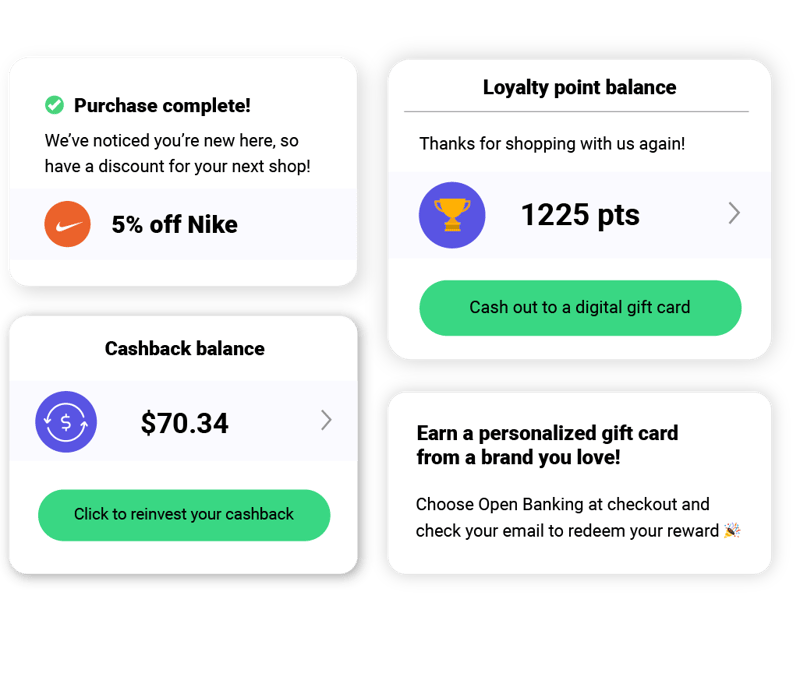 One Hub, global connection, endless opportunities
Find new and profitable use cases for digital gift cards
Experience the transformative potential of Tillo's platform, where digital gift cards aren't just for gifting but are strategic business assets across a broad spectrum of industries.
Neobanks & Challenger Banks
Seamlessly offer digital gift cards as rewards and incentives.
Employee Rewards & Voluntary Benefits
Position your brand as a top-choice for companies looking to incentivize and appreciate their employees and workforce
Relief Support
& Disbursement
Enable governments and charities to utilize your gift cards as efficient means of delivering aid and support to those in need.
Open Banking & Embedded Finance
Increase adoption of Open Banking and new initiatives with digital gift cards.
Strengthen loyalty program offerings and member retention by offering your gift cards as a reward.
Incentivise timely payments and increase customer loyalty with digital gift card discounts.
Capitalize on the growing crypto market by allowing them to convert their digital currency into your gift cards.
Pass part of your discount to the consumer and become part of premium Cashback programs.
Elevate, optimize, and simplify gift card management
Experience next-gen digital gift card management with Tillo's industry-leading platform and intuitive Buyer Hub
Powerful gift card discounts
Access game-changing gift card discounts and irresistible brand promotions that boost your bottom line.
Real-time data insights
Experience full transparency and valuable real-time reporting within the Buyer Hub.
Universal
Float
Centralize your funds and simplify the complexities of handling multiple currencies with Tillo's pioneering Universal Float.
Full control
Locate transactions and amend, re-issue, or revoke gift card codes efficiently using intuitive search functionality and transaction filters.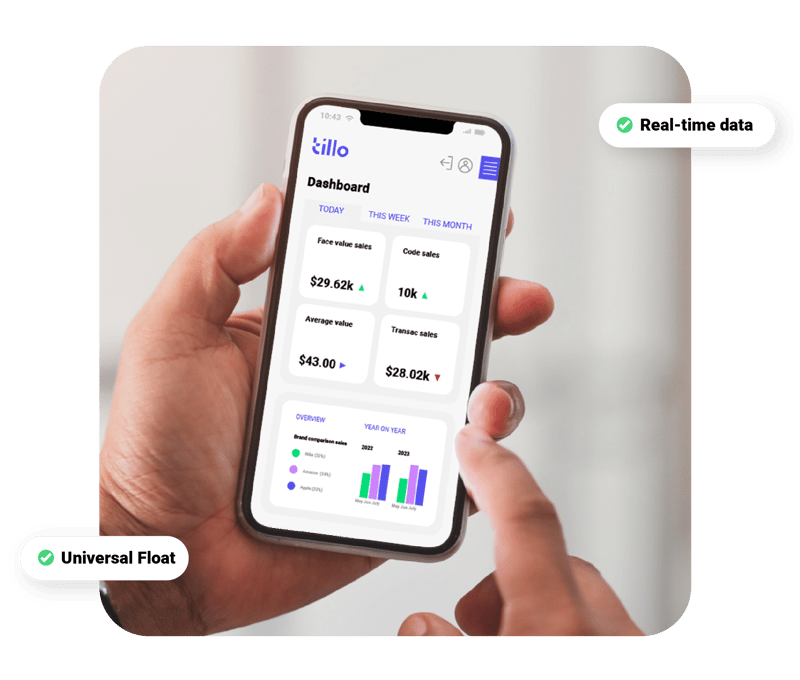 Discover a gift card API that does more
Tillo's gift card API simplifies the complexities of individual brand agreements, saving you valuable time, resources, and stress.
Flexible
Synchronous and asynchronous connections for unrivalled flexibility as you scale.
Reliable
Trust in the reliability of a platform with zero downtime for uninterrupted service.
Global
Connect seamlessly to 2000+ global brands across 37 countries and 16 currencies.
Secure
Cyber Essentials Plus and ISO 27001 accredited, keeping you and your customers safe.
"The simplest, most effective way to get gift cards into your platform"
Ben Collier, Growth Director