ChoiceLink
Meet ChoiceLink - the gift card solution for maximum

choice
Open up a world of choice with a single link branded to you and personalised to them.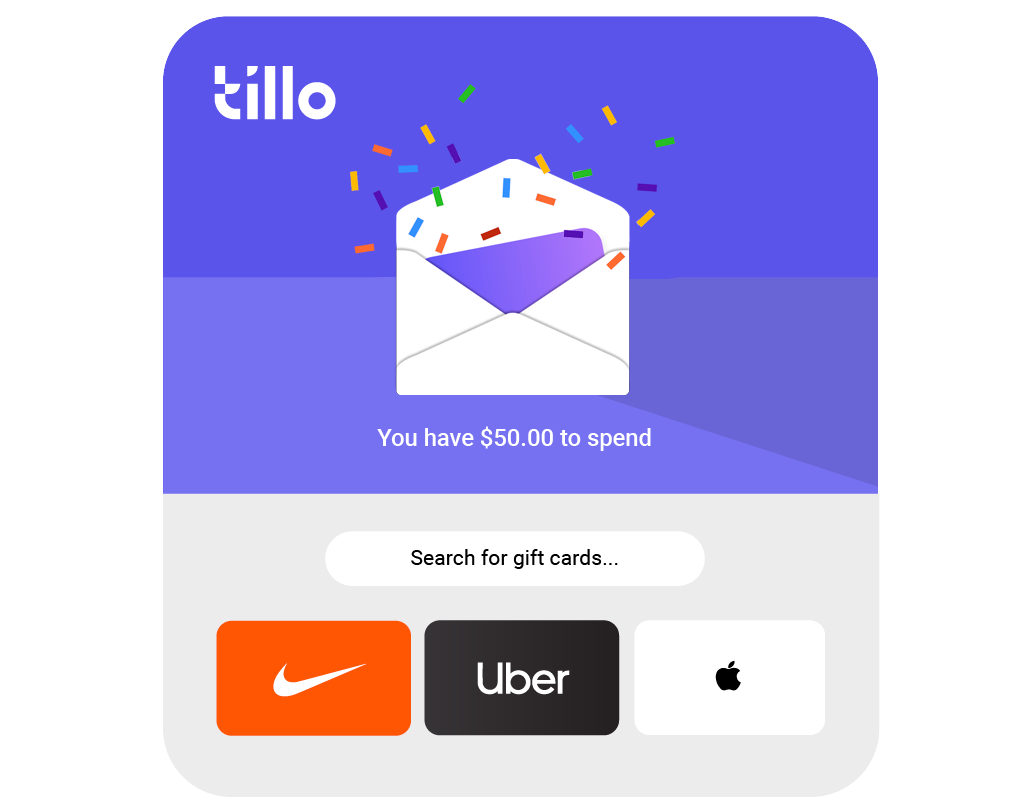 One link, world-class brands, endless choice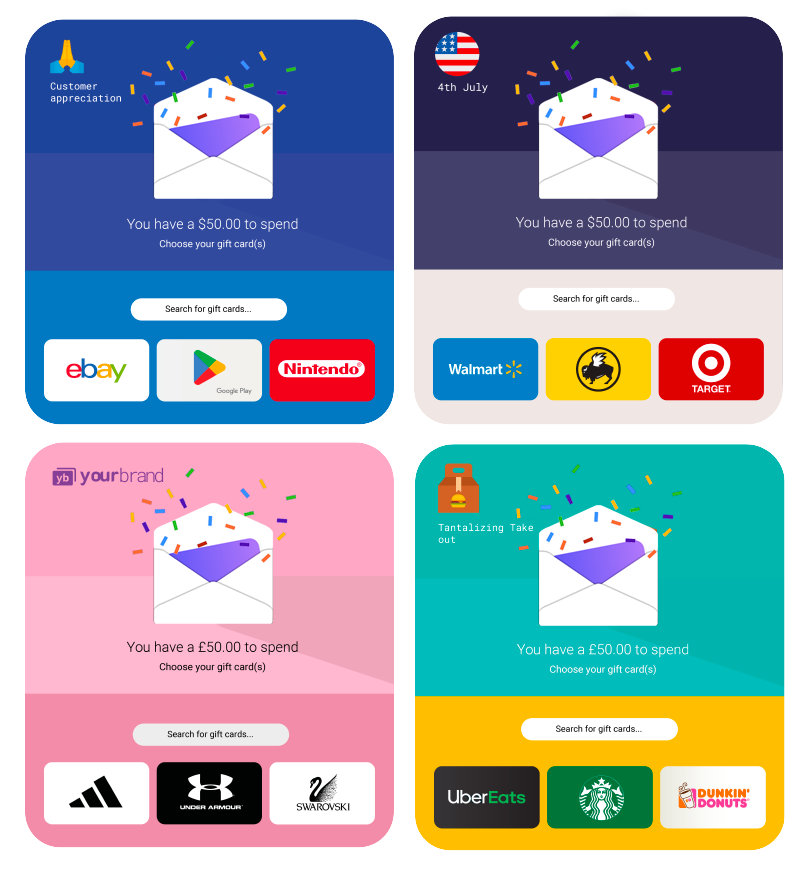 A more meaningful multi-retailer experience
We've elevated the standard multi-retailer gift card to ensure an unparalleled level of customisation and freedom, empowering you to offer more choice, without sacrificing that personal touch.
Personal
Tailor your ChoiceLink to match your brand personality and the unique preferences of your audience.
Flexible
Consumers can split their ChoiceLink value across multiple brands and retailers, making their gift go further.
Diverse
Curate your ChoiceLink from our catalogue of 2000+ global brands, giving recipients a choice of redemption options.
Craft your ChoiceLink to be uniquely yours
Setting up your ChoiceLink is as simple as building, branding, and sharing. Here's how you can do it in three easy steps:
1. Build it
Create your ChoiceLink by selecting from our extensive catalogue of 2000+ global brands. Don't know where to start? Opt for one of our pre-curated ChoiceLinks that cater to various interests.
2. Brand it
Next, it's time to make your ChoiceLink distinctively yours. Send us your company branding, and we'll ensure your ChoiceLink echoes your corporate identity.
3. Share it
Compose your email message with a personal touch and choose your recipients. With a simple click of 'Send,' your customers will be greeted with an enticing array of choices tailored just for them.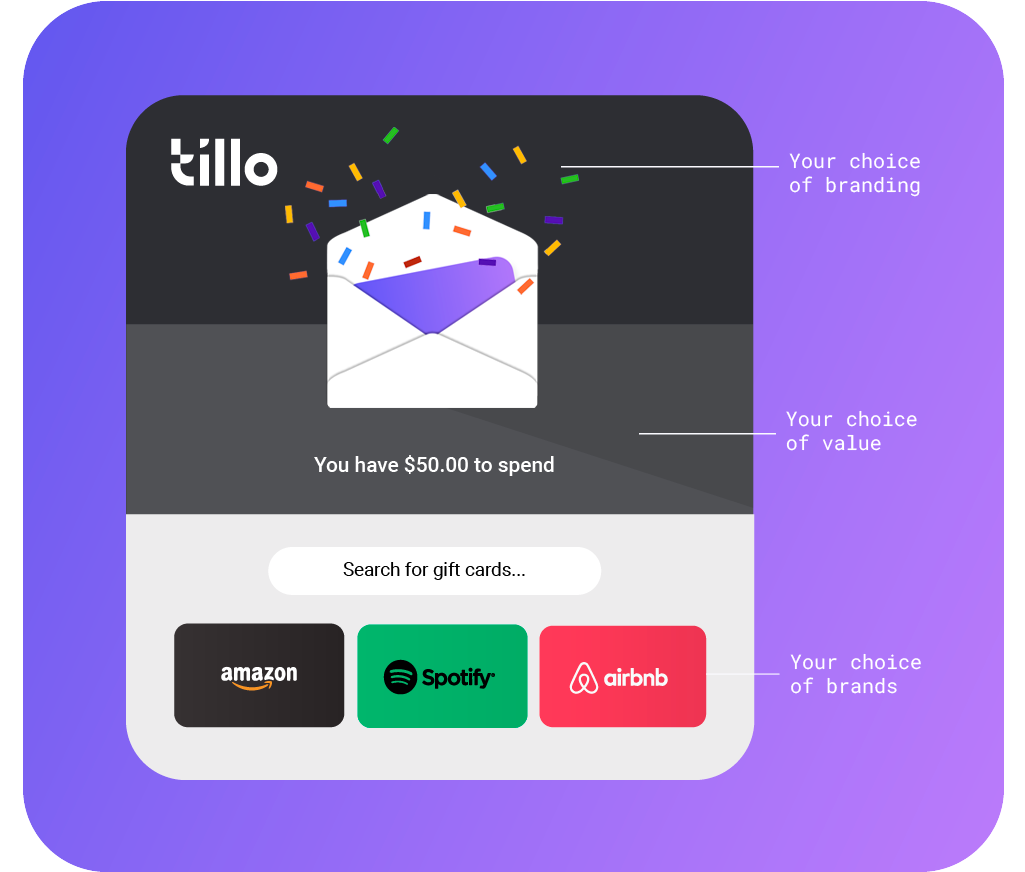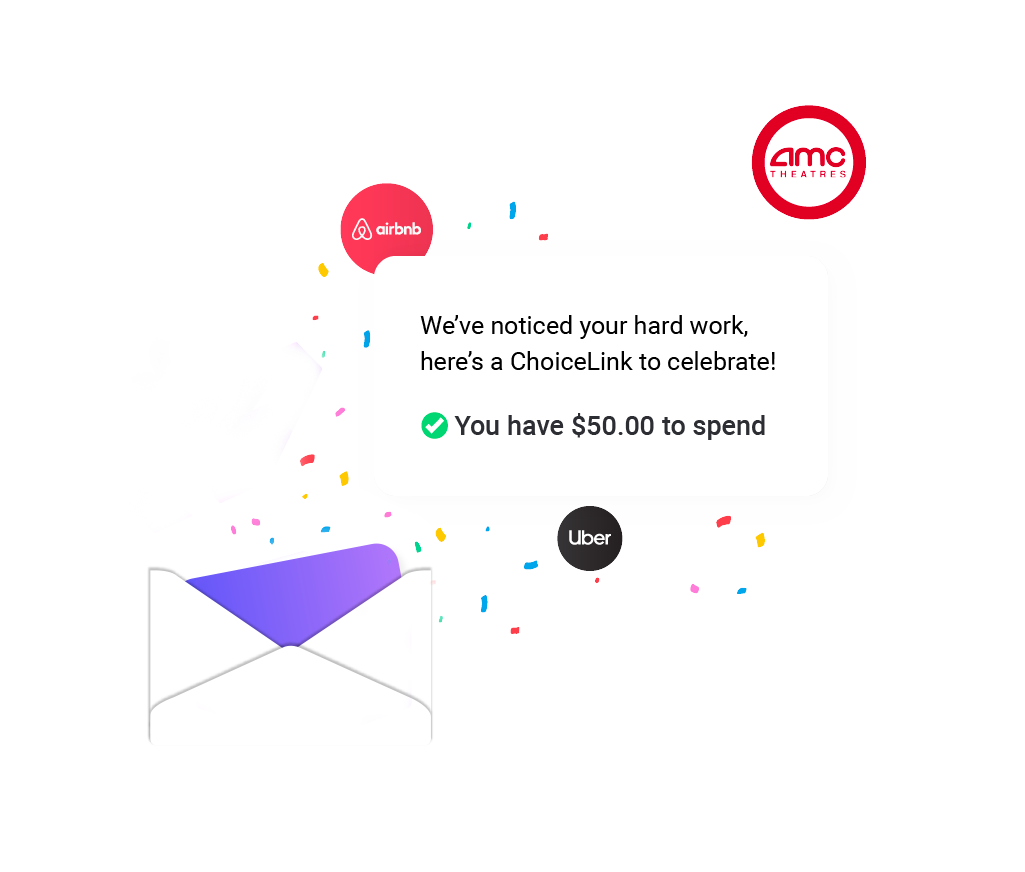 Surprise and delight every recipient
Immerse recipients in a unique gifting journey with ChoiceLink. Hand them the power of choice, and let them explore, engage, and redeem at their own pace and preference.
Receive
Each recipient receives a personalised email containing your branded ChoiceLink and delivery message.
Redeem
Recipients can distribute their ChoiceLink value across multiple brands from within your custom catalogue.
Repeat
ChoiceLink allows partial redemption, enabling recipients to revisit their links and spend at their leisure.
Powered by the Tillo Platform
Seamlessly deliver the power of choice to your customers with our industry-leading embedded rewards and incentives platform.
Round-the-clock customer care
Enjoy industry-leading customer support with a 99% satisfaction rating.
Powerful gift card discounts
Access game-changing gift card discounts and irresistible brand promotions.
Exclusive partnerships
Provide recipients with rewards and incentives that they can't find anywhere else.
Real-time data insights
Experience full transparency and valuable real-time reporting within the Buyer Hub.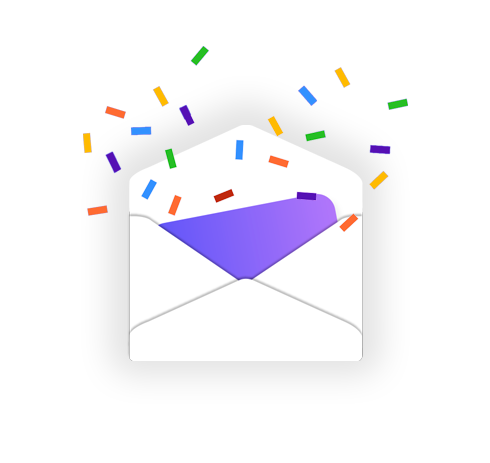 Where could a ChoiceLink take you?
Consumer Rewards & Incentives
Personalise every touchpoint in the customer journey.
Employee Rewards & Voluntary Benefits
Maximise productivity and retention with an array of brand choices.
"The simplest, most effective way to get gift cards into your platform"
Ben Collier, Growth Director