Bulk Buy
Bulk buy digital gift cards from 2000+ global brands in
seconds
Buy and send digital gift cards in bulk with Tillo and streamline your rewards, incentives, and gifting strategies.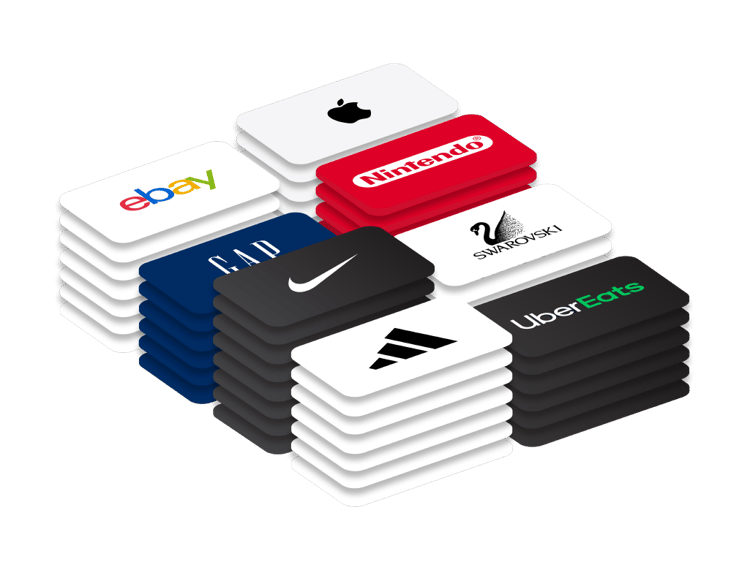 One Hub, global connection, endless opportunities
With Tillo, buying gift cards in bulk is a breeze
Tillo's Bulk Buy is designed for scalability, adaptability, and efficiency. From employee rewards to customer incentives, Tillo makes buying and sending digital gift cards easy.
2000+ brands
Bulk buy digital gift cards from thousands of top-tier global brands, including Amazon, Nike, Airbnb, and more!
Easy ordering
No contract, no fees. Place bulk orders with just a few clicks and experience streamlined processes.
Personal touch
Customize your order with a personal delivery message using our Buy and Send feature or digital unwrapping experience.
Eco-friendly
Make an environmentally conscious gifting choice, reducing physical waste and aligning with modern, digital-first strategies.
Do more than Bulk Buy with Tillo's embedded platform
Discover the full potential of an industry-leading platform and immerse yourself in an advanced bulk buying experience where precision meets innovation.
Global connectivity
Access a diverse network of 2000+ global brands, all integrated into Tillo's award-winning platform, making bulk buying as simple as a few clicks.
Round-the-clock customer care
Experience peace of mind with our 99% satisfaction rating and round-the-clock customer assistance. Whatever you need, we can help you deliver it.
Powerful gift card discounts
Unlock exclusive offers and competitive pricing on bulk orders, enhancing your ROI and making every reward even more impactful.
Real-time data insight
Harness the power of data. Track the success of your bulk buying campaigns, understand recipient preferences, and adjust strategies for maximum impact.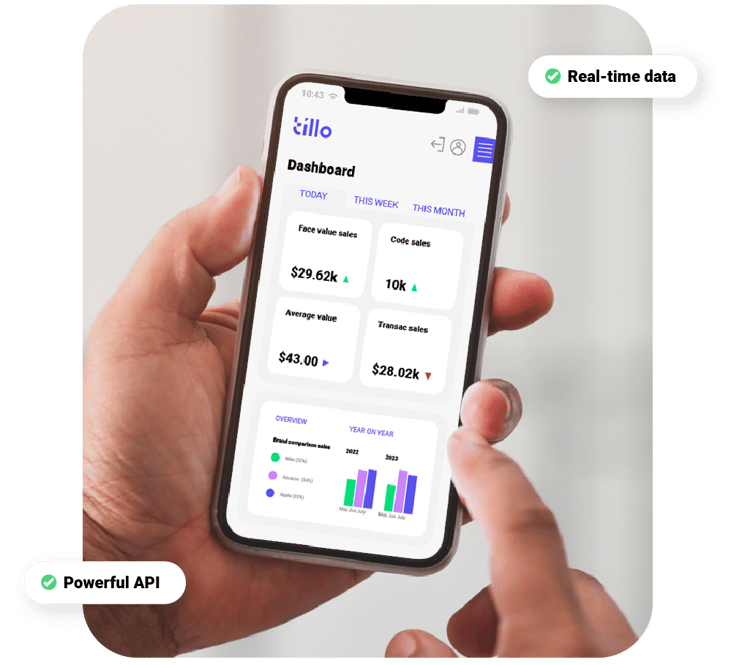 Where could Bulk Buy benefit you?
Sales incentives & rewards
Reward high-performing sales teams and incentivize milestones with digital gift cards.
Customer service & support
Turn service challenges into opportunities by compensating or appeasing customers with their choice of digital gift cards.
Encourage participation in college events and attendance at seminars by offering digital gift cards as rewards.
Incentivize participation in surveys, feedback forms, and market research with digital gift cards from top global brands.
Events & corporate functions
Stand out at trade shows, conferences, and corporate events by offering digital gift cards as giveaways, prizes, or incentives. reccomendations
Employee rewards & recognition
Motivate, appreciate, and retain your talent with bespoke bulk gift cards tailored to resonate with every member of your team.
Enhance patient engagement and satisfaction by offering digital gift cards for participating in health screenings or wellness programs.
Seasonal & holiday gifting
Send out festive digital gift cards in bulk to employees, partners, or clients, making seasonal gifting thoughtful and efficient with the help of Tillo's Bulk Buy.
"The simplest, most effective way to get gift cards into your platform"
Ben Collier, Growth Director