Gift Card API
Plug into Tillo's gift card API for a seamless connection to

global brands
Effortlessly integrated, instantly impactful. Our award-winning gift card API connects you to an expansive catalogue of 2000+ global brands. Just plug and go.
One integration, global connection, endless opportunities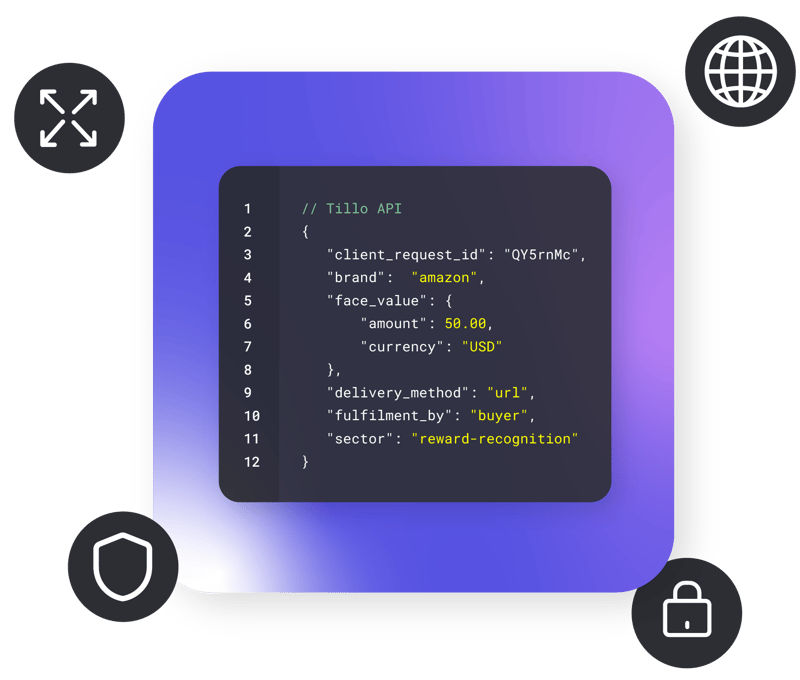 A gift card API that does more
Tillo's gift card API simplifies the complexities of individual brand agreements, saving you valuable time, resources, and stress.
Flexible
Synchronous and asynchronous connections for unrivaled flexibility as you scale.
Reliable
Trust in the reliability of a platform with zero downtime for uninterrupted service.
Global
Connect seamlessly to 2000+ global brands across 37 countries and 16 currencies.
Secure
Cyber Essentials Plus and ISO 27001 accredited, keeping you and your customers safe.
Experience the versatility of Tillo's Platform
Escape limitations and start experiencing the true power of an industry-leading embedded rewards and incentives platform.
Round-the-clock customer care
Enjoy industry-leading customer support with a 99% satisfaction rating.
Exclusive partnerships
Provide your customers with rewards and incentives that they can't find anywhere else.
Powerful gift card discounts
Access game-changing gift card discounts and irresistible brand promotions.
Real-time data insights
Experience full transparency and valuable real-time reporting within the Buyer Hub.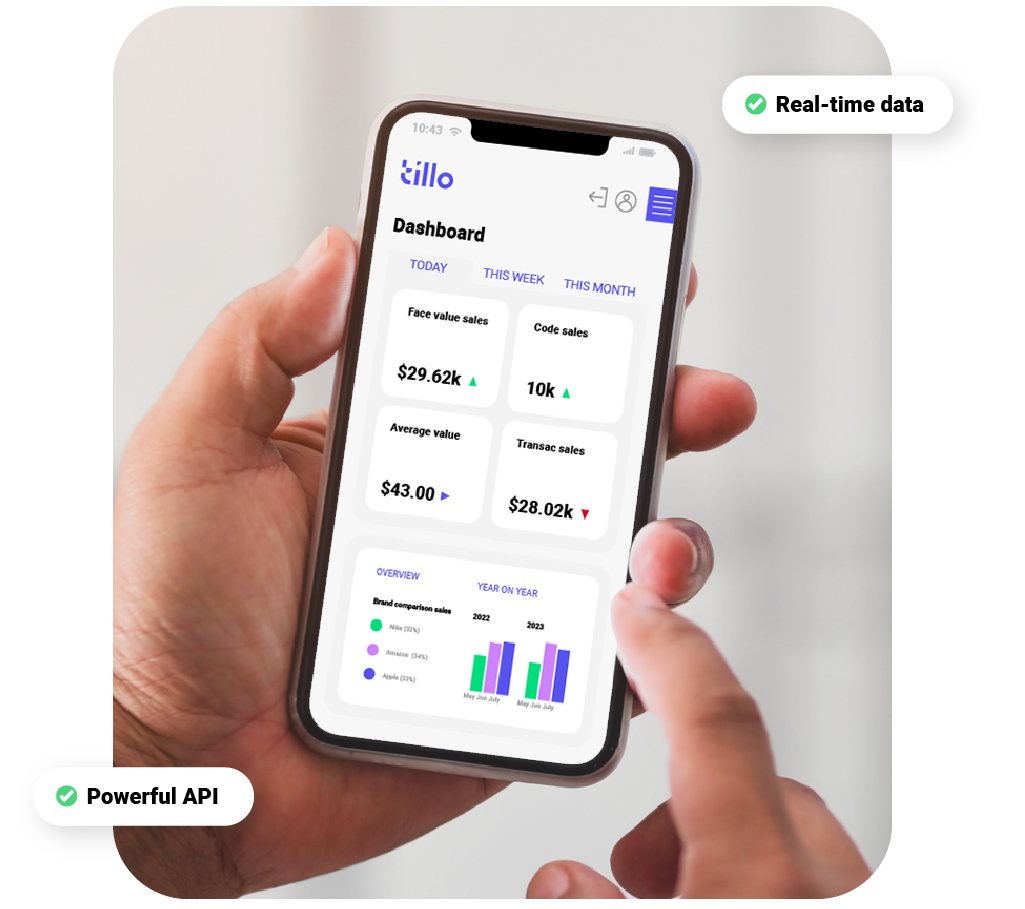 Where could a gift card API take you?
Consumer Rewards & Incentives
Influence every touchpoint in the customer journey.
Employee Rewards & Voluntary Benefits
Enhance productivity and retain top talent.
Relief Support
& Disbursement
Disburse funds and deploy financial aid effectively.
Power and fund your affiliate marketing strategy. Reccomendations
Turn earnings or points into 2000+ digital gift cards.
Transform crypto into gift cards for everyday purchases.
Leverage powerful discounts for profit-boosting cashback.
Access hundreds of B2B Buyers and discover new use cases.
"The simplest, most effective way to get gift cards into your platform"
Ben Collier, Growth Director