Banked :
Redefining incentivization for Pay by Bank and Open Banking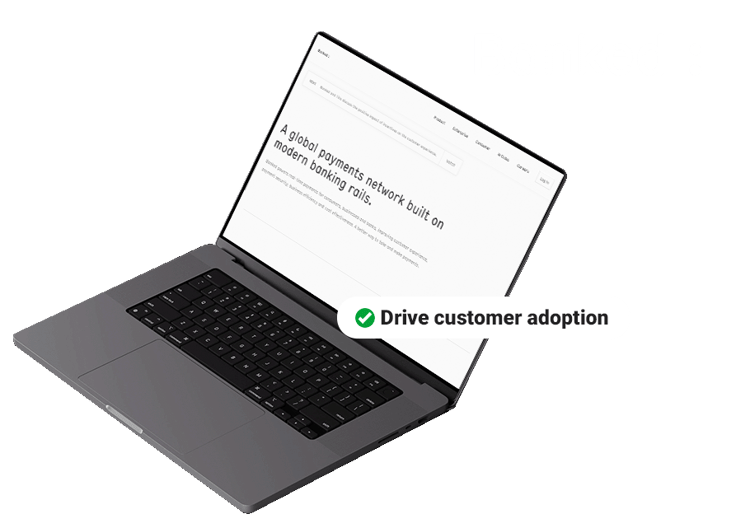 About Banked :
Banked is the architect of a new global payment network offering a real alternative to mainstream payment methods that offers consumers a way to pay without entering their financial data by connecting directly with their mobile banking app.
With Banked's Pay by Bank, there's no need for consumers to create an account, no financial details are shared, authorization is biometric, and the merchant receives the funds in real time and in full. Fees for Pay by Bank are also up to 90% lower than those of traditional payment methods, and fraud is virtually eliminated.

Challenge
Driving customer adoption of their 'Pay by Bank' feature and increasing its share in the overall checkout process

Solution
Integrate with Tillo to offer digital rewards and incentives from 2000+ global brands at checkout.

Result
Including an incentive at checkout raised the adoption of Pay by Bank and its share of checkout from 10% to 23%
Read more about how Tillo is working with Banked :
Despite offering an innovative approach to payments, Banked identified a challenge: driving customer adoption of their 'Pay by Bank' feature and increasing its share in the overall checkout process.
They needed a solution that would enhance customer engagement, provide meaningful benefits to the consumer, and improve merchant performance.
Delivering digital rewards and incentives at checkout
Banked's research has shown that including an incentive at checkout could potentially raise its share from 10% to 23%, highlighting a need for a robust incentivization strategy that would differentiate Banked from its competition and simultaneously elevate the consumer payment experience.
By partnering with Tillo, Banked were able to integrate rewards and incentives from 2000+ of the worlds leading brands into their incentivization and growth strategy at checkout.
Seamless
Immediate digital issuance for
efficient distribution nationwide.
Reliable
A robust platform with zero downtime for an uninterrupted service.
Efficient
Access to real-time data insights and reporting for trend analysis.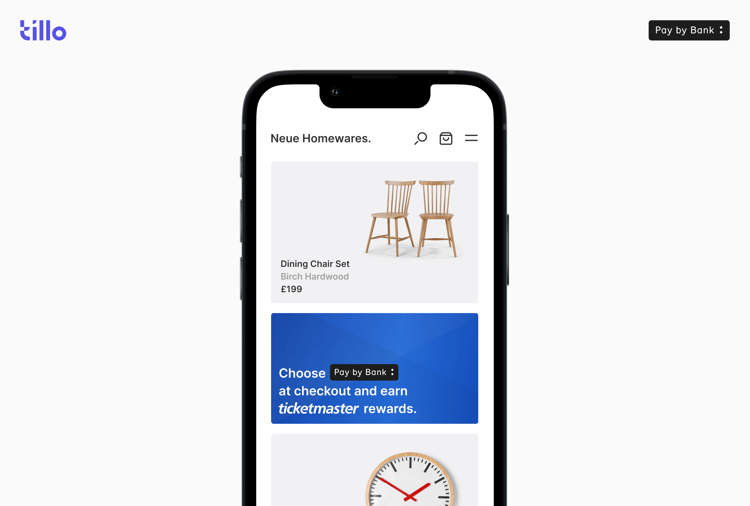 Going global with Tillo's expansive brand catalog
Thanks to Tillo, Banked's merchants can now choose from a vast range of branded incentives and set parameters for their campaigns. The Tillo platform takes care of all fulfillment aspects, and Banked also promotes merchant incentives through various marketing channels and provides comprehensive campaign analysis.
For Banked, choosing to partner with Tillo was a strategic decision influenced by Tillo's global reach and diverse range of rewards from consumer-loved brands. Tillo's network boasts over 2,000 brands in 36 markets, aligning perfectly with Banked's expansive payment network spanning the US, UK, and most of Europe.
Increasing adoption of Pay by Bank
By partnering with Tillo and integrating digital rewards and incentives into their strategy, Banked was able to differentiate its services from competitors, offering not just a secure, fast, direct bank payment solution but also the tools to drive consumer adoption and awareness of 'Pay by Bank.'
Hear from more of our customers