Buyer Hub
Gift card management made

easy | insightful | global
Unlock efficiency and control with Tillo's Buyer Hub and experience the ability to connect, manage, and analyze relationships with 2000+ global brands from one central location.
One Hub, global connection, endless opportunities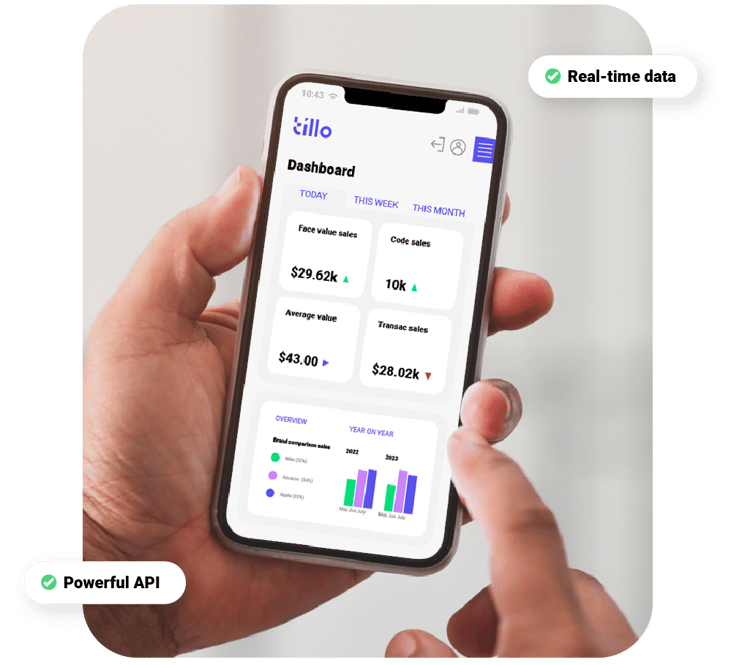 Where intelligent design meets actionable data
Optimize your gift card strategy, and propel your business to new heights with Tillo's Buyer Hub.
Universal Float
Centralize your funds and simplify the complexities of handling multiple currencies with Tillo's pioneering Universal Float.
Full control
Locate transactions and amend, re-issue, or revoke gift card codes efficiently using intuitive search functionality and transaction filters.
Real-time data insights
Stay informed on Brand performance at both macro and micro levels with instant access to key metrics and automated reporting.
Your Hub, your way
Tailor the Buyer Hub to suit your business needs with permission-based access levels that support enterprise-level businesses.
Experience the true power of an industry-leading platform
Enjoy unrivaled functionality and features tailored specifically to those that buy and distribute digital gift cards globally and at scale.
Round-the-clock customer care
Enjoy industry-leading customer support and a 99% satisfaction rating. We're here for you.
Powerful gift card discounts
Access game-changing gift card discounts and irresistible brand promotions.
Exclusive partnership opportunities
Discover Tillo's network of 2000+ global brands and provide your customers with rewards and incentives they can't find anywhere else.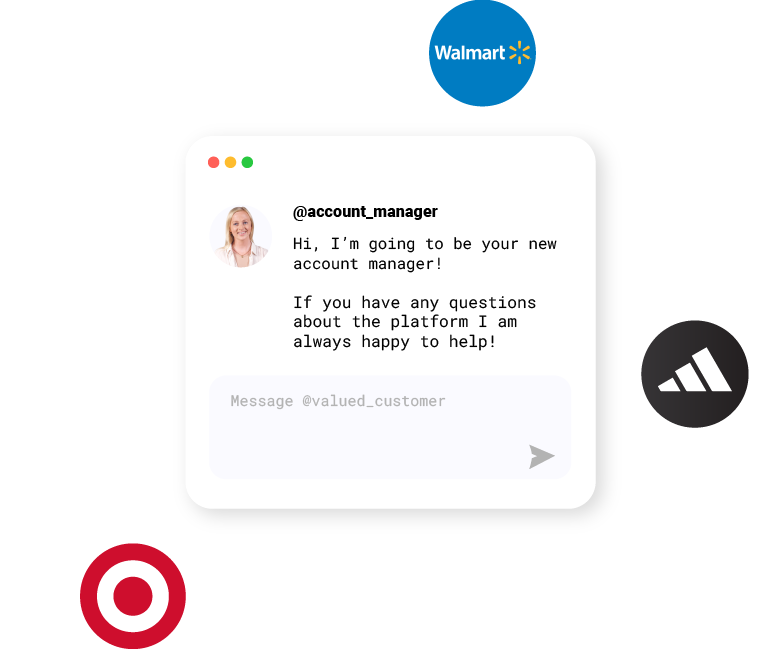 How could you use the Buyer Hub?
Open Banking & Embedded Finance
Increase adoption of Open Banking with rewards and incentives.
Employee Rewards & Voluntary Benefits
Access a vast range of rewards and incentives from global brands.
Relief Support
& Disbursement
Disburse funds and deploy financial aid effectively using digital gift cards.
Neobanks & Challenger Banks
Seamlessly offer digital gift cards as rewards and incentives.
Incentivize timely payments and increase customer loyalty with rewards and incentives.
Strengthen member engagement with access to 2000+ global brands.
Power off-ramp to digital gift cards or reward and incentivize users.
Access powerful gift card discounts to enhance cashback offerings.
"The Tillo platform is super easy to navigate, with a quick turnaround time for brand approvals."
Samantha Bray, Sales and Global Brand Support