I recently attended the IMA Summit in Utah, USA. It was a great event and opportunity to meet with many experts from across the rewards, incentives and loyalty industry in the beautiful mountains of Snowbird, Utah. One of the main discussion topics was the digitisation of gift cards, with healthy debates around the potential barriers to success especially within the US market.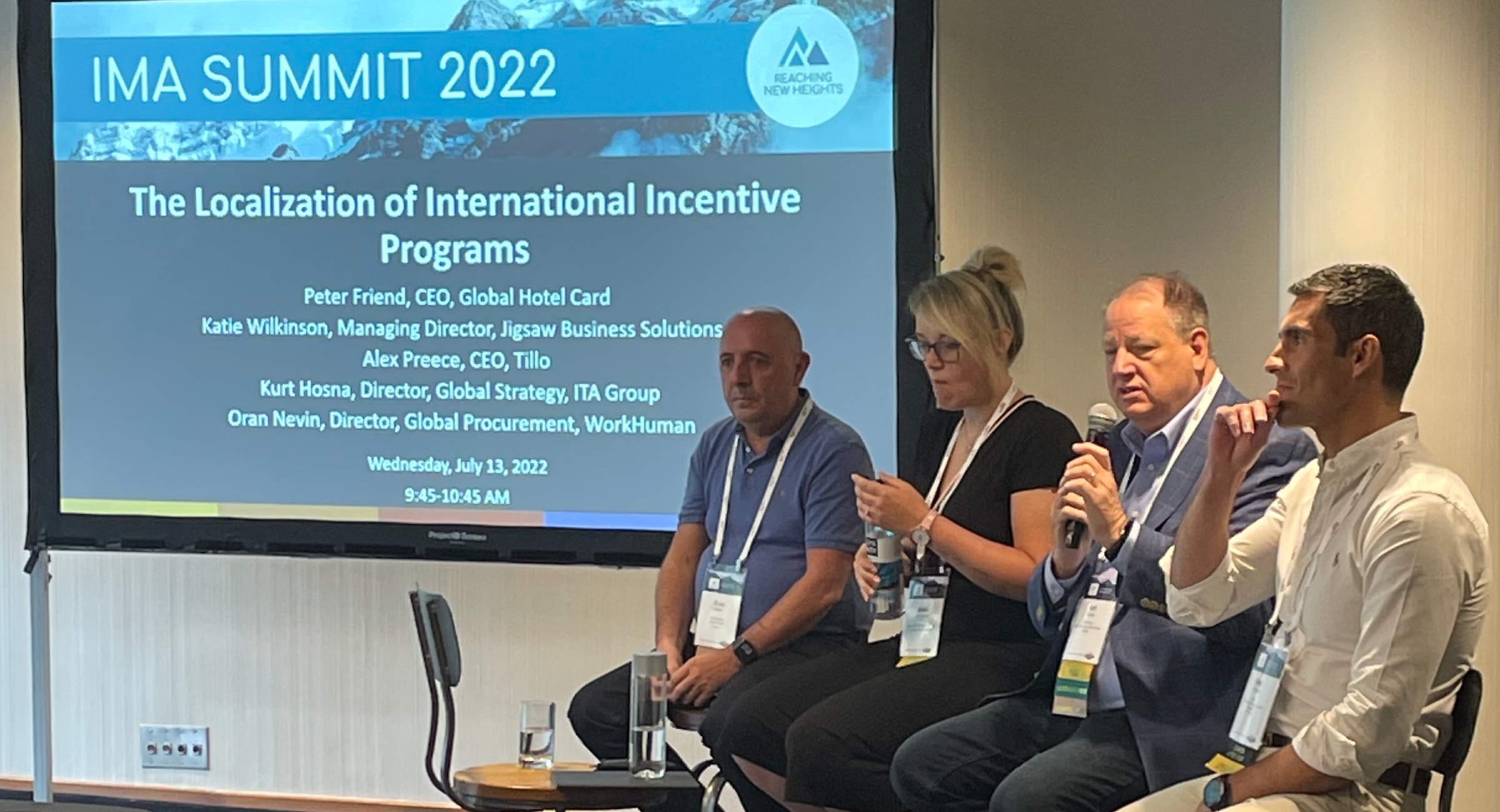 Adoption of digital gift cards has been faster in the UK and Europe than the US, with significant growth in digital gift cards over the last 2 years. So, it got me thinking about the differences and what learnings we can take from the UK and Europe, which is now well on the way to being digital first.
Consumers Drive Digitisation
It's no surprise that consumer demands drive technological shifts, but consumer demand alone is often not enough. If you look at digital transformation within retail and the speed of eCommerce adoption, it took decades for many retailers to truly deliver upon this. The global pandemic became the catalyst for those who lagged behind, with many projects delivered in a matter of weeks. British and European retailers innovated faster than many US retailers, but it's interesting to look into reasons why as it provides insights for the digitisation of B2B gift cards in the US market.
One obvious factor is the geographic size of the US vs any single country in the UK or Europe. Retail experiences are different, with large retail malls more prevalent, resulting in subtle differences in consumer behaviour. In the world of gift cards, physical gift card malls feature more highly in the US than the UK/Europe.
Another significant factor is financial regulation and the differences within the banking systems.
Advancements in contactless payments pave the way for digitisation especially when it comes to redemption options. The US market lags behind Europe, with technology such as chip and pin only introduced in the US within the last 10 years, almost a decade later than the UK.
Europeans can already make use of digital gift cards in their digital wallets with contactless technology such as watches and even rings now making their way into the European payment market. According to Statista, contactless payments make up 48% of all payment transactions made at point of sale (POS) each month in Europe. However, in the USA contactless payments made up less than 2% of debit card payments in 2021.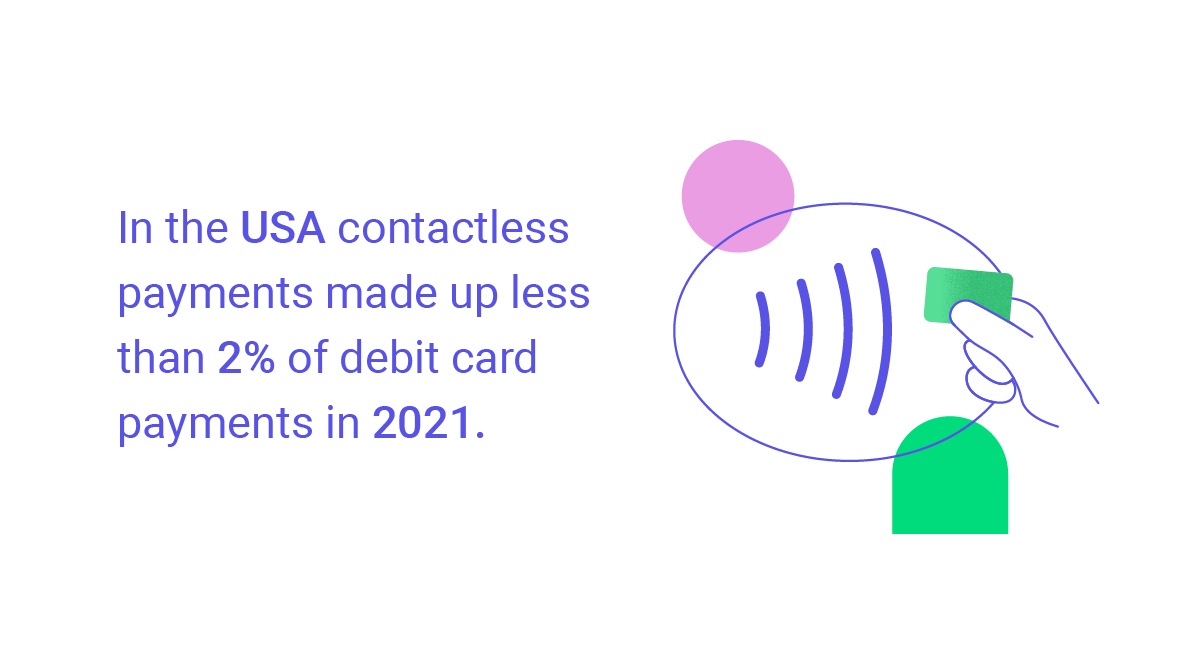 However, with recent acceleration and growth in the US digital banking sector, the US is looking set to be on a more level playing field with the UK and Europe in the near future.
Increase in the Usage of Smartphones
The rise in the next generation of smartphones is likely to increase the digital gift card market by providing customers with more flexible and convenient payment options. Software that allows users to load their gift cards and spend them whenever they go shopping is already available. In recent years, there has been an increase in the demand for improved products and technology integrations linked to payment solutions. The gift card market is shifting from plastic to digital gift cards as the use of mobile phones and internet penetration grows globally.
Changing perceptions around gift cards
It's clear that perceptions around gift cards are changing - once considered an easy gift lacking in thought, they're now a valued gift that enables an experience. With a more 'instant' mindset, and personalisation increasingly expected by consumers, digital gift cards support both personalisation and quicker, easier redemption opportunities of those experiences.
Within the B2B gift card sector, gift cards are increasingly used as an employee reward and retention strategy, with digital providing the best route to deliver gift cards at scale, whilst reducing waste and promoting sustainability.
Pandemic and Economic Crisis Fuel New Use Cases
The global pandemic contributed to the growth of digital gift cards, with a growing number of use cases emerging, including government fund disbursement initiatives such as the National free school meals voucher scheme in the UK which enables eligible families to purchase eGift cards to use at their choice of supermarkets.
We saw a number of trends emerge during lockdowns, from the growth of the employee benefits segment to support remote workers to the emergence of segments like "food on demand" which saw exponential growth in terms of gift card sales and continued to remain strong after the pandemic.
As the economic crisis continues, with high fuel costs, high inflation and increased cost of living, digital gift cards are starting to be used in new ways.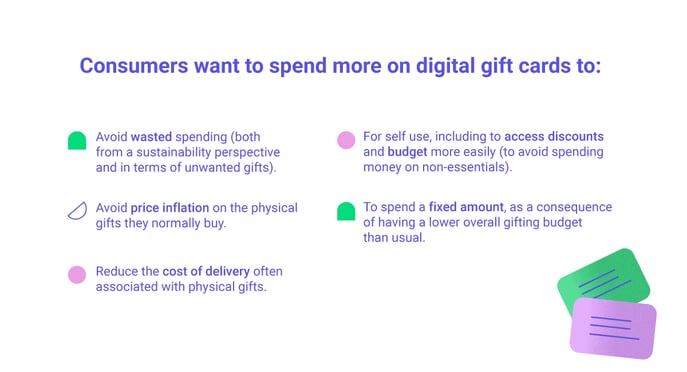 Digital vs physical gift cards - key considerations
It's no surprise then that share of digital gift card adoption vs physical is growing. Digital gift cards make up the fastest growing segment of the market, with a 32% share of the total UK market in 2021.
The December 2021 GCVA Commentary report showed that the pandemic has permanently cemented the greater influence of digital purchasing and redemption, with 59.5% of gift card respondents stating that they "expect all gift cards to be cross-channel" - the highest level of agreement since GlobalData began tracking.
As digital gift cards pull ahead of physical and more businesses adopt them for various needs, it's worth considering how digital and physical gift cards differ in terms of delivery, usage and experience.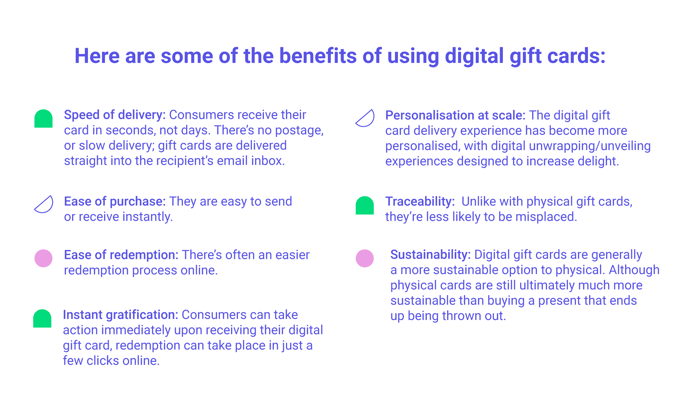 Driving new trends and experiences
Looking forward, we can expect the adoption of digital gift cards to accelerate and shape new customer experiences both in Europe and the US:
1. Greater Choice
Consumers' desire for flexibility is reflected in the growing desire for open loop reward cards.
Running on card payment rails, like our Mastercard reward card, (Reward Pass) open loop cards are almost as flexible as cash as they can be redeemed anywhere the payment processor is accepted. A key use case driving open loop spending is the need multinational companies have to reward employees or customers across multiple markets.
It's fair to say we can expect a plethora of new, more personalised solutions that aim to cater to consumers' unique needs and tastes. In fact, we recently launched our product to do just that; Choice Links which gives our customers an easy way to send 100s of gift cards through a single link.
2. Greater convenience, frictionless experiences
All businesses understand the importance of a smooth user experience; this is something the gift card industry is taking heed of as they aim to make it easier than ever for consumers to buy, activate and spend their gift cards.
Digital wallet provisioning will be critical to digital gift card success as 72% of consumers want to be able to add gift cards to their global wallet. It is currently possible to add gift cards to Google and Apple Pay, but the process isn't yet as seamless as it could be.
3. Endless opportunities for businesses
Growth-focused organisations are using digital gift cards to build stickiness with digital gift cards throughout the customer journey.
Fintechs, including a leading BNPL provider, are using digital gift cards to drive new customer acquisition as well as to reward long term customer loyalty. As more consumers leverage digital gift cards, there's also greater potential for upsell/uplift at the point of redemption, further benefiting retailers.
Digital gift cards also enable businesses to send an apology, incentivise their employees, reward high performance, and much more. Gift cards are even becoming a popular means of cashing out from crypto currencies.
What does the future of digital gift cards look like?
The gift card sector is growing fast, and being driven by innovation. The digital segment of the gift card market is expected to reach $1,101.03 billion by 2030.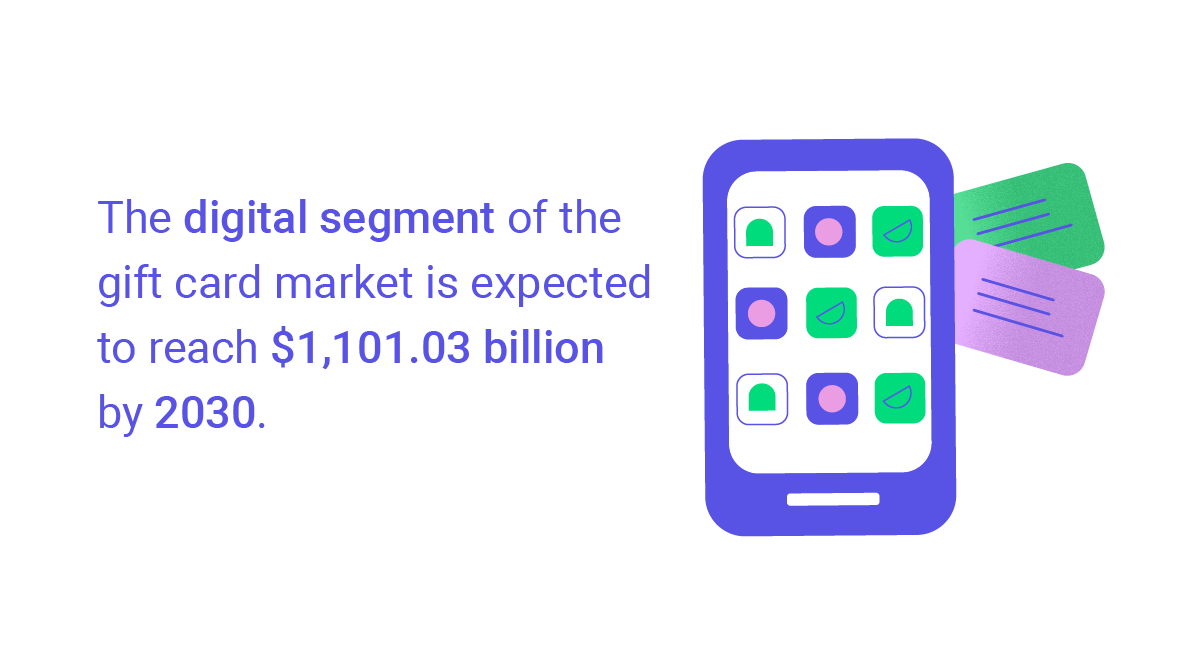 The rise in the adoption of advanced technologies in the payments sector and a surge in awareness of digital payments across the world is supercharging this growth - consumers today, especially in the UK and Europe, are used to paying with their mobiles as well as shopping online.
We can expect digital-savvy consumers to move further away from cash and physical vouchers in the coming years, driven by online trends, Web3 and the metaverse. Organisations looking to drive growth are realising that digital gift cards are the perfect way to resolve two business headaches in one go: attracting new customers and keeping existing ones.
Powering new use cases
Tillo was founded specifically to make digital gift card delivery seamless and power a number of exciting and new use cases. We enable businesses to drive sustainable and profitable growth through an innovative platform that uses the power of gift cards to connect consumers to the brand they love. Using our platform, our customers benefit from a wide range of gift card use cases, from customer loyalty and acquisition strategies to employee incentives, rewards and even crypto cashout.
If you'd like to learn more about what we do and how we can help your business tap into new, lucrative and exciting revenue streams, please get in touch with our team here.