In a world where consumer convenience is key, businesses are always on the lookout for new ways to streamline their processes and make the lives of their customers easier - enter card-linking.
In this post, we're going to cover the basics of card-linking, including what card-linking is, how card-linking technologies work and whether they're secure.

Jump to the section you're most interested in:
- What is card-linking?
- How does card-linking technology work?
- Is card-linking safe and secure?
- Solving card-linking problems with gift cards
- The power of digital gift cards for personalized loyalty
What is card-linking?
Card-linking technology is a way for consumers to "link" their credit and debit cards to a merchant's loyalty program. The technology allows the merchants to acquire customer data via an API which bypasses any challenges of going direct to the source. Therefore, valuable transaction data is captured when customers shop with their normal payment card.
That data can then be attributed to a unique customer ID, which helps build a single customer view - the holy grail of customer engagement and loyalty initiatives.
From the consumers' perspective, card-linking technology enables consumers to quickly and automatically use loyalty programs, removing the need for any form of loyalty card. After the card has been linked, there is no further action required other than to redeem the reward, but that's the fun part!
When a user links their card, they give their permission to share personal data on how they spend their money and, in return, gain personalized experiences and offers which keep them engaged and incentivized.
For businesses trying to build customer loyalty via loyalty schemes, the smooth and seamless user experience of card linking is a great way to increase participation.
In the UK, 76% of consumers carry between one and five cards on them at all times, and 40% of them see carrying multiple cards as an inconvenience
💳
Linking payment cards to loyalty initiatives also reduces the number of physical cards a customer needs to carry, and for those who choose to use digital wallets, this also means fewer cards to manage in their payment apps.
Card linking provides a frictionless and more seamless experience, which results in fewer cards for the consumer, all the while simultaneously increasing the uptake of participation in branded loyalty programs.
How does card-linking technology work?
Card-linking technology works by acquiring customer data via an API. This API connection captures transactional data when a customer shops and then distributes it to the card-linked loyalty provider so that they can update their loyalty system.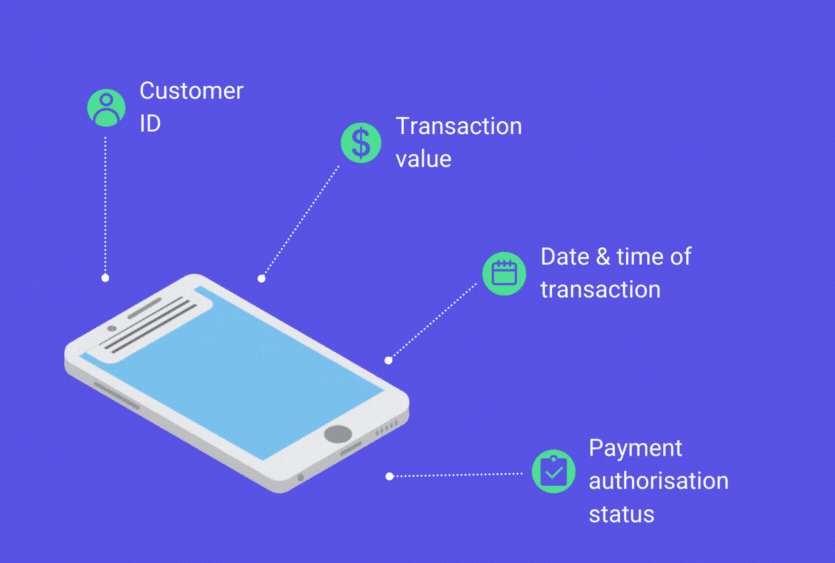 The data collected for card-linking technology to work includes a person's unique customer ID, transaction time, transaction value, merchant location, ID and authorization, payment method, payment status, and the payment authorization code.
Without this kind of data, card-linking technology would not be able to provide a complete image of a person's purchase history.
Is card-linking safe and secure?
It's completely understandable for customers to be wary of sharing data, especially when it's connected to their bank or preferred payment system. However, attitudes to banking apps and payment technologies are changing and have been accelerated by the growth in embedded finance and open banking initiatives.
Most tech-savvy consumers are now happy to share information about their shopping habits and preferences if it benefits them in some way, either by helping to personalize their shopping experience or by giving them access to cash-back or discounts associated with a loyalty scheme.
Problems with this kind of data sharing only occur when businesses ask for too much information or don't directly link the data they're gathering to the benefits they provide the consumer.
Card-linking technology should never ask for a person's CVV code and will never need access to a user's bank account
🔐
Solving card-linking problems with gift cards
Card-linking has the potential to revolutionize loyalty, but the current technology and its adoption by many top-tier brands mean it isn't quite there yet.
Another common problem with card-linking is the offers come with stringent restrictions - they may only benefit new customers, require a minimum purchase amount, or run for brief periods.
Card-linking can also be very costly, with associated fees often running into the many tens of thousands
Fortunately for loyalty-hungry businesses, digital gift cards provide a tried-and-tested alternative and one that can also be cost-neutral or even profitable to implement. What's more, gift cards can easily be incorporated into existing or developing loyalty programs with a single simple and cost-effective API connection.
The power of digital gift cards for personalized loyalty
While cashback and card-linking offers can take some time to be validated, digital gift cards can be redeemed in real-time, making it possible to distribute them as instantaneous rewards to participating consumers.
Unlike card-linking offers, which often come with restrictions and limitations, gift card discounts are 'baked in,' meaning less red tape, predictability of discounts, and a higher chance of their offers appealing to larger consumer segments.
But perhaps the most significant benefit of offering digital gift cards over card-linking offers is the number of brands available for consumers to choose from.
At Tillo, we have a global catalogue of more than 2000+ brands that consumers love, making it easy to create loyalty initiatives that reward everyone at each stage of the value chain
🛍️
While digital gift cards may not be quite as slick or frictionless as card-linking because they require the consumer to redeem their gift card once it has been rewarded, the benefits of offering digital gift cards for loyalty still dramatically outweigh the cons.
Talk to Tillo to learn more about how digital gift cards can support your loyalty initiatives
At Tillo, we know how difficult it can be to balance loyalty, acquisition, and growth, which is why we set out to solve all three of these business headaches in one using the power of digital gift cards.
Thanks to our innovative platform, Tillo helps you make a single connection to the world's largest global network of 2000+ brands, making it virtually effortless to attract, incentivize and reward your rapidly expanding customer base.

Ready to find out more?

Get in touch with us today to learn more about how Tillo can support your loyalty, acquisition, and account activation programs using digital gift cards.