Gift cards and crypto - a match made in heaven or an odd collaboration?
In this blog post, we're going to explore some of the reasons why gift cards are quickly becoming one of the most popular ways for users to cash out their crypto.
The problem with converting crypto to fiat currency
Crypto has come a long way since Bitcoin was first used to buy a pizza in 2008, but it's still tough for users to live on crypto without cashing out their cryptocurrency into a more widely accepted tender.
The most obvious way to turn crypto into usable tender is by cashing it out into fiat currency, but that isn't always the smoothest process. High transaction fees and unfavorable conversion rates can make cashing out a costly endeavor, not to mention it can take hours or days for transfers to complete, leaving the user watching the clock while they wait for their money to arrive.
Depending on where they live in the world, some crypto users may also face taxes on their crypto transactions, making the prospect of cashing out into fiat fairly unattractive.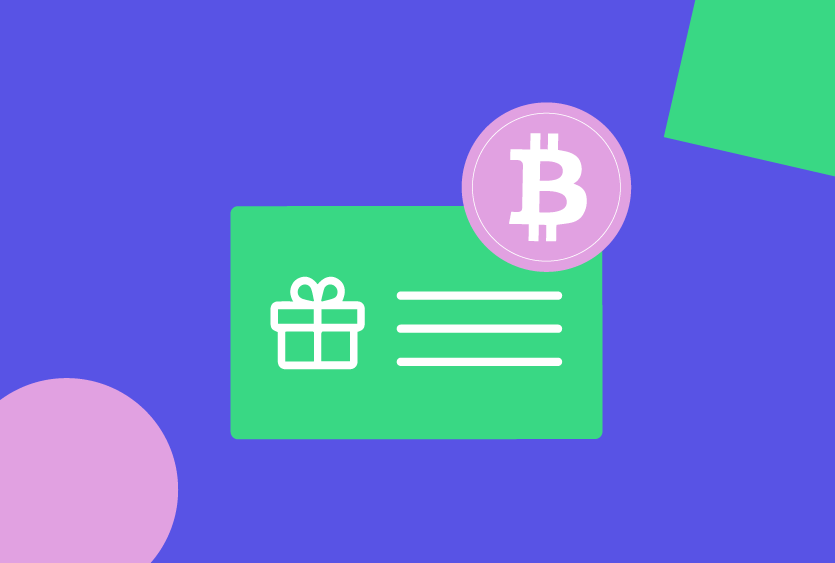 But what if users had another way to cash out their cryptocurrency into a widely accepted tender?
Would they cash out more if they didn't have to pay high transaction fees or unfavorable rates and only needed to wait seconds, not days, for their transfer to complete?
The answer is yes. Users are incentivized to cash out more when the process is easier and more cost-effective, and all of this is made possible using the power of digital gift cards.
Since CoinGate started offering gift cards for cryptocurrencies in September 2020, sales each month were more productive than the month before. - CoinGate - Tillo Customer
Offering gift cards as a crypto cash-out alternative
In a few clicks, users can transform their crypto into a globally accepted tender to be used at the brands they love most.
Allowing crypto users to cash out their cryptocurrency onto gift cards is an easy way for crypto exchanges to make living on crypto more accessible to the broader public while also tapping into new revenue streams that support their wider business endeavors.
And that's not the only use-case for gift cards in the crypto sector. Crypto partners can also utilize gift cards as a part of their acquisition, loyalty, and rewards strategies, helping them stand out from competitors in their crowded marketplace.
How Tillo supports Bitrefill using gift cards
Bitrefill uses Tillo's innovative platform to access brands and retailers consumers love as a mechanism to enable their customers an easy way to pay using crypto in the form of gift cards. By harnessing the power of digital gift cards as a cash-out option, Bitrefill can give their customers the option to pay for their daily needs with Bitcoin, ETH, and other cryptocurrencies.
With access to Tillo's extensive brand network, Bitrefill customers can top up their phones, travel, game, shop, gift, and stream using gift cards from hundreds of leading brands.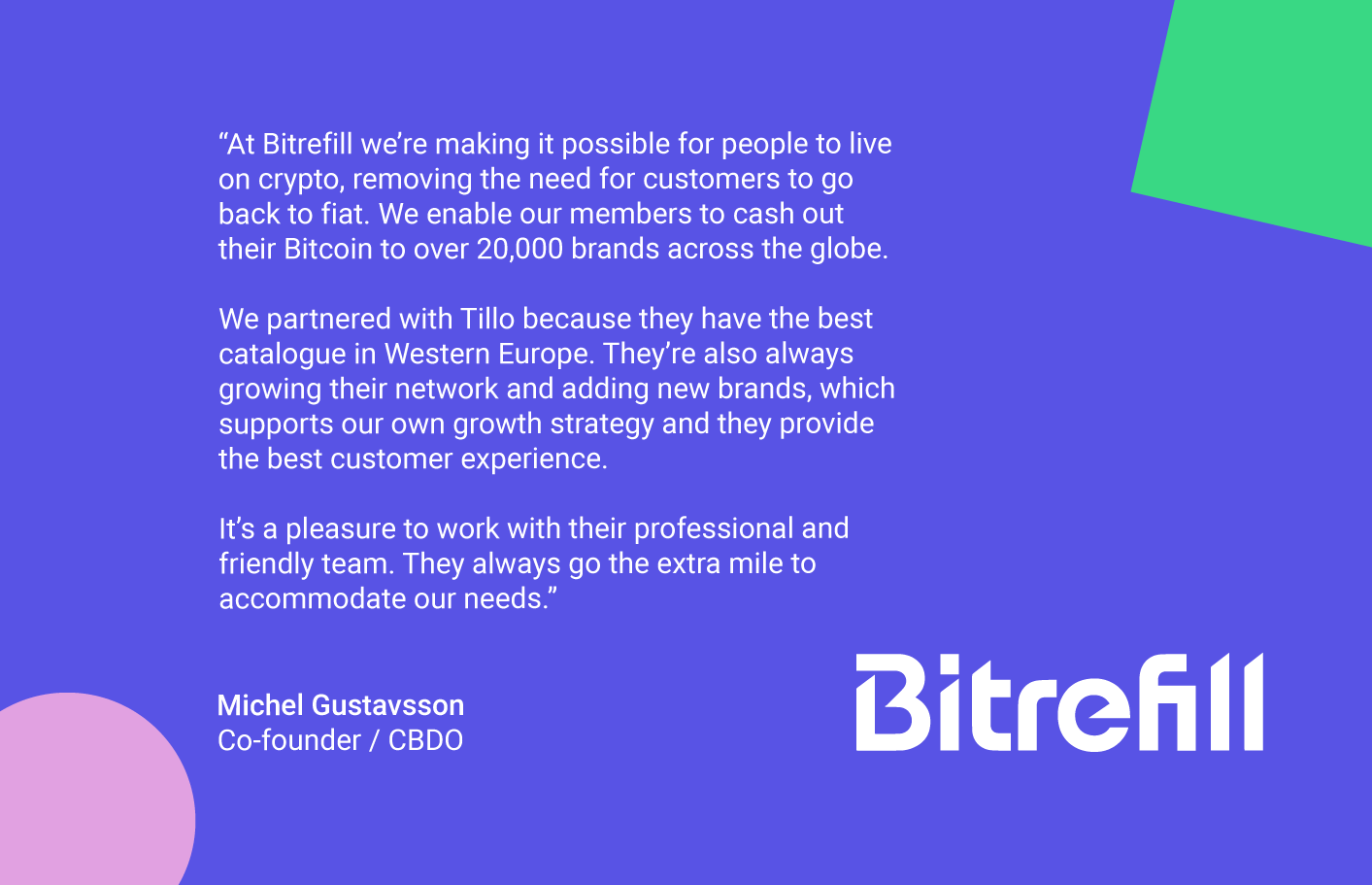 How Tillo is supporting BitCard® using gift cards
If crypto cash-out onto gift cards wasn't cool enough, Tillo is also helping crypto businesses like BitCard® by empowering them with the ability to offer crypto as a gift using gift cards that are redeemable for Bitcoin.
BitCard® allows customers to gift the world's leading cryptocurrency, Bitcoin. By adding a cash value to the card, it can be redeemed anytime. Customers do not need special software and don't need to link their bank account to a crypto exchange. Bitcoin transactions occur instantaneously, with users provided with real-time access to all their BitCard® gift cards, crypto prices, and account balances from the BitCard® website.
"Effective relationships have been key to the BitCard® success story, and we are delighted to be working with Tillo to bring the huge benefits of Bitcoin ownership to their ecosystem. This relationship will help us to further bridge the gift card and crypto spaces, delivering huge value to both organizations, brands, and consumers." - Edward T Gieske III​, CEO of BitCard®.
Harness the power of digital
gift cards with Tillo
Tillo uses the power of digital gift cards to connect crypto consumers to the brands they love - whether that's as a cash-out option, reward, incentive, or gift.
Thanks to our impressive API, crypto partners can plug in and go, gaining access to our impressive brand network with no complicated setup.

To find out more, visit our website or get in touch with us today.