Gone are the days when a simple discount or a standard gift card would suffice to win customer loyalty. Businesses now realize that the key to truly resonating with their audience lies in personalization - especially when it comes to customer appreciation.
Customers want to feel valued
The average consumer is bombarded with an onslaught of generic offers, mass marketing campaigns, and one-size-fits-all reward schemes.
In such a saturated market, a touch of personalization can make all the difference, ensuring your brand stands out from the crowd.
💡 91% of consumers say they are more likely to shop with brands that provide offers and recommendations that are relevant to them​​.

💡 72% of consumers say they only engage with personalized messaging​.

💡 71% of consumers feel frustrated when a shopping experience is impersonal​​.
Making digital gifting memorable
With Tillo's Wrappr delivery, digital gift cards transcend beyond being a transaction. Imagine the thrill of a customer receiving a digital gift card that they can unwrap virtually, mimicking the same joy and anticipation of unwrapping a physical gift.
This kind of interaction encourages customers to share their experiences, generating organic word-of-mouth promotions about your business.
According to Esteban Kolsky, 72% of customers will share a positive experience with six or more people.

On the other hand, if a customer is unhappy, 13% of them will share their experience with 15 or even more.
Tailoring your customer rewards
People are all different, so why offer a singular brand choice when you can present your customers with a world of options? With a Tillo ChoiceLink, you can do just that.
ChoiceLink is more than just a multi-store gift card. It's a bespoke gifting experience, allowing recipients to distribute value across multiple brands, catering to diverse tastes and preferences. Plus, you can brand a Tillo ChoiceLink as your own and send it to recipients with a bespoke message.
Whether they're tech enthusiasts, fashion-forward consumers, or gourmet food lovers, with ChoiceLink, everyone finds something they adore.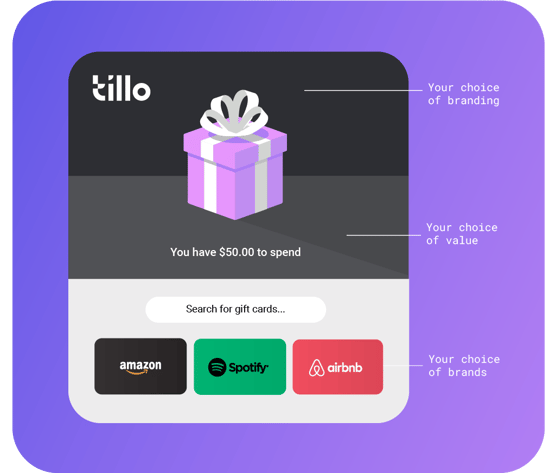 Maintaining the edge in customer appreciation
An experience that is interactive, engaging, personal, and memorable ensures not just customer satisfaction but also repeated business and brand loyalty, and this deepened relationship with the customer positions businesses at the forefront of their industry.
In a landscape where customers constantly seek validation for their brand choices, making them feel valued is paramount. Personalized digital gift cards and products like Wrappr and ChoiceLink offer the perfect blend of choice, flexibility, and delight, effectively setting the new gold standard for customer appreciation.
Ready to elevate your customer appreciation game with personalized digital gift cards? Learn more about Tillo and witness the transformative power of personalization.