Discover the potential of crypto for your business by attending our Curious About Crypto Webinar on the 28th of March!
Sign up for the webinar here
The world of cryptocurrencies has come a long way in recent years, and there is now a lot of untapped potential in the market, especially for B2C retailers who don't take crypto payments and are yet to offer their gift cards for use in crypto initiatives.
What is the market value of crypto?
Let's take a look at the numbers. As of January 2023, the total market capitalization of cryptocurrencies is over $2 trillion USD. The daily trading volume of the crypto market averages around $250 billion USD. These figures indicate that there is a significant amount of money tied up in the crypto market, and it's there waiting to be spent.
Despite the size of the market, many retailers are still hesitant to engage with cryptocurrencies. In some cases, this is due to the perceived volatility of crypto prices and, in others, because of a lack of understanding of the technology.
How can retailers capitalize on crypto without taking cryptocurrency?
One of the easiest ways for retailers to tap into the revenue potential of crypto without needing to take crypto payments directly is by using Tillo to access a variety of innovative crypto use cases, such as crypto cash-out.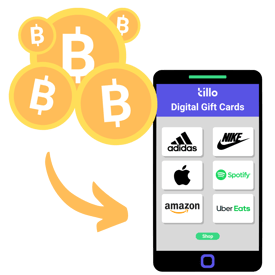 By electing to feature their digital gift card on a crypto exchange, retailers empower crypto users to cash out their crypto onto a digital gift card which can then be used in-store or online in precisely the same way as non-crypto users do.
Without taking any crypto payments directly or dealing with cryptocurrencies in any form, retailers can then tap into the crypto market, reach a new affluent audience and capitalize on the increased basket spend associated with gift cards.
Why would users cash out onto gift cards and not into fiat currency?
Traditionally, crypto users have to cash out their cryptocurrencies into fiat currency before they can make payments, but this process is often slow and costly. In some cases, it can take days for a transfer to complete, and the high fees associated with fiat cash out mean a lot of crypto users choose to hold their coins rather than spend them.
Virtually all of the issues associated with the crypto-fiat exchange process are solved when users cash out their crypto onto digital gift cards. Because the transfer occurs in seconds and processing fees are considerably lower, more crypto users are incentivized to cash out and spend some of the value tied up in their cryptocurrencies.
"Since CoinGate started offering gift cards for cryptocurrencies in September 2020, sales each month were more productive than the month before." - Coingate
Why choose Tillo to tap into the crypto market
Tillo's innovative platform makes it easy for retailers to connect their brands to the world's fastest-growing digital gift card network and access exciting new crypto-use cases.
Our Retailer Portal makes it easy for retailers to discover crypto-based initiatives and elect to have their gift cards represented in their programs. Retailers also maintain complete control and transparency over who they work with and can access real-time reporting to see the profitability of their gift cards across crypto use cases.
To find out more, get in touch with Tillo today, and we'll help you unlock the potential of crypto.