Leading Digital Gift Card Platform Integrates with Direct Bank Payment Solution to Drive Consumer Adoption and Increase Merchants' Checkout Conversion
Tillo, the digital gift card platform that empowers innovators to evolve acquisition and loyalty initiatives using the power of digital gift cards, today announced a strategic partnership with Banked, a leading direct bank payment platform, to bring Tillo's rich brand catalog into Banked's incentivization and growth strategy. This turnkey solution for merchants makes it easier for them to test marketing programs and drive customer engagement with new payment methods with no additional integration required.
The collaboration will enable merchants to select from a wide range of branded incentives and set parameters for their campaigns, with Banked handling all fulfillment on behalf of the merchant. Banked also provides campaign analysis to help merchants assess performance and promote the incentive through their marketing channels and site.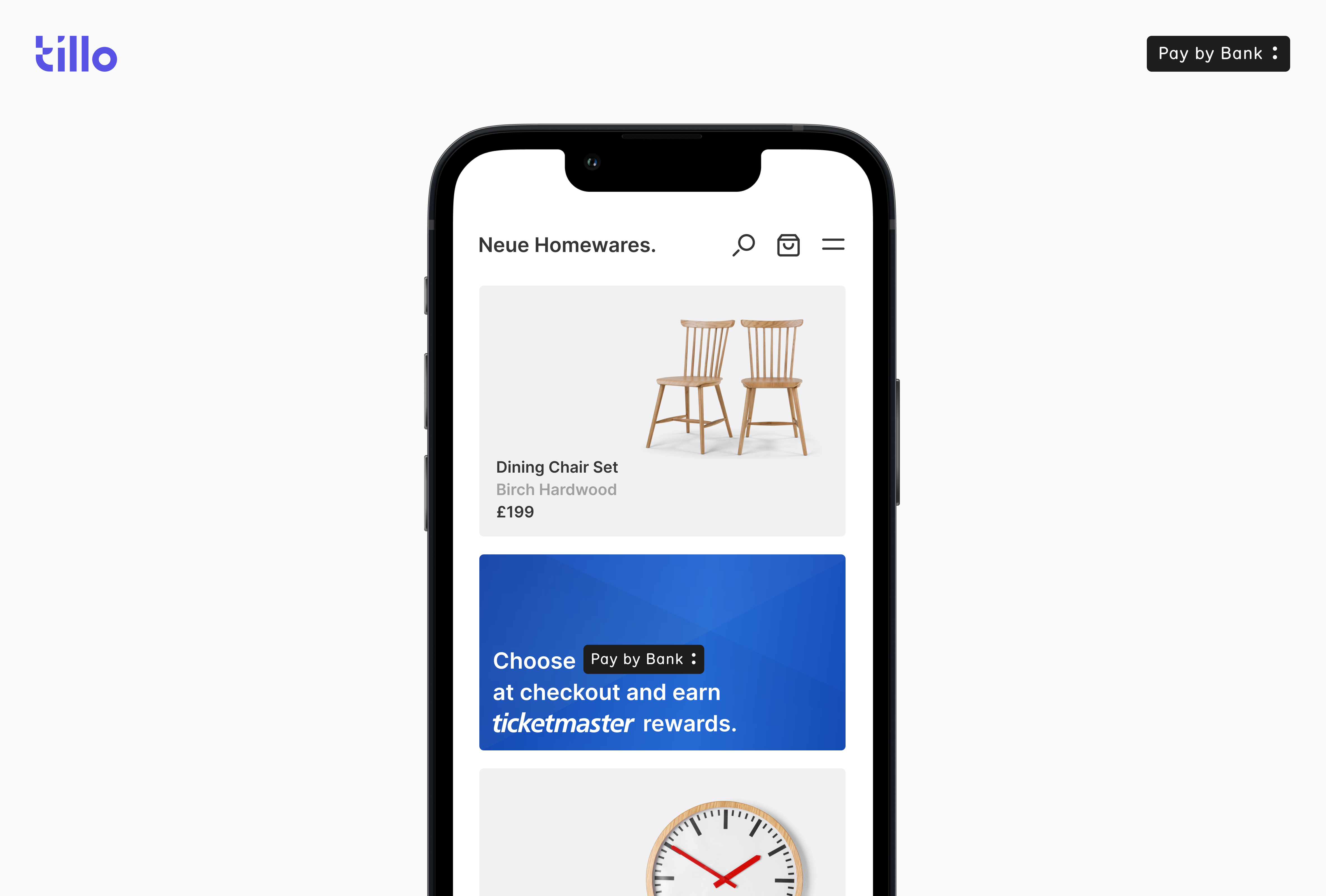 Banked's integration of Tillo's digital gift cards will differentiate it from other services and solutions by providing not only a fast, safe, and secure direct bank payment solution but also the tools necessary to drive consumer adoption and awareness of the payment method.
The choice to work with Tillo was driven by their broad range of incentives and global focus. Tillo has over 2,000 brands in 36 markets, making them an ideal partner for Banked's global payment network across the UK, the US, and much of Europe.
Banked's research shows that by including an incentive at checkout, its share of checkout can rise from 10% to 23%, and this partnership with Tillo is expected to have a significant impact on Banked's merchants' performance and consumer adoption of Pay by Bank.
"We are thrilled to partner with Tillo and bring their digital gift cards into our incentivization and growth strategy," said Lisa Scott, CEO of Banked Europe. "This collaboration will play a significant role in driving awareness around Pay by Bank as a simple, secure, and fast way to make payments and also a way to offer meaningful benefits to consumers."
"Our partnership with Banked represents a major milestone in the integration of digital gift cards with direct bank payment solutions," said Alex Preece, CEO and Co-Founder at Tillo. "We're thrilled to bring our rewards to Banked's customers and play a role in driving consumer adoption and increasing merchants' share of checkout."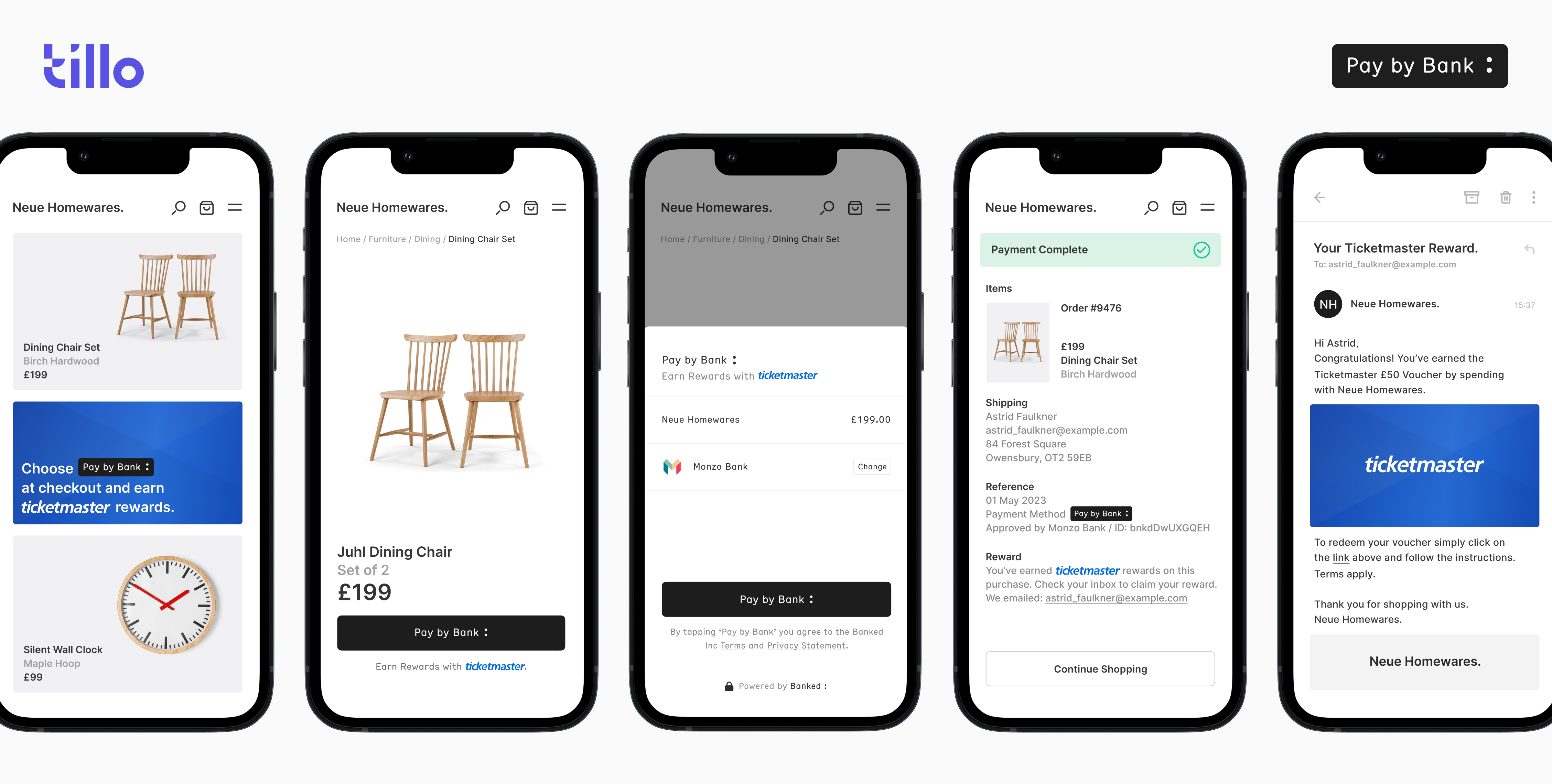 ---
About Banked
Banked is the architect of a new global payment network offering a real alternative to mainstream payment methods. Consumers now have a way to pay without entering financial data and connecting directly with their mobile banking app. There is no need to create an account, no financial details are shared, authorization is biometric, and the merchant receives the funds in real-time and in full. Fees are up to 90% lower than the traditional payment methods, and fraud is virtually eliminated, which helps promote lower prices for consumers. Banked also enables businesses to drive customer engagement and loyalty with incentives and rewards integrated into the payment experience. The company has offices in London, Palo Alto, Lithuania, and Australia. For more information, visit www.banked.com.
About Tillo
Tillo enables businesses to supercharge sustainable and profitable growth through an innovative platform that uses the power of digital gift cards to connect consumers to the brands they love. It means businesses can tap into new, lucrative, and exciting revenue streams to acquire new customers and reward loyal ones.
Tillo is quick and easy to deploy with the fastest growing network, enabling our customers, their customers, and thousands of global businesses to flourish. We work with over 2,000 brands in 16 currencies across 36 markets and have processed over $2 billion worth of gift cards.
For further information, visit http://www.tillo.io