Card-linked offers have become increasingly popular in recent years as more and more consumers look for ways to save money and earn rewards while they shop.
With the rise of loyalty rewards cards, retailers are now able to offer targeted discounts and incentives to customers based on their spending habits, but by implementing card-linked technology, retailers can further streamline this process by offering their customers rewards and incentives for simply using their bank cards.
But like any technology, card linking has its pros and cons. In this blog post, we'll explore the real benefits and drawbacks of card-linked offers and look at they compare to other loyalty programs.
What are card-linked offers?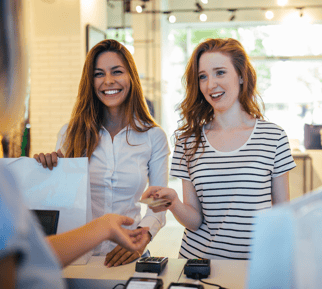 Card-linked offers (CLOs) are discounts or cashback rewards that are linked directly to a consumer's credit or debit card.
Instead of presenting a coupon or loyalty card at the point of sale, customers simply use their registered payment card to receive the discount or reward automatically. This technology is made possible by partnerships between retailers, banks, and payment processors, who work together to track consumer spending and offer targeted incentives.
Why card-linked offers are great
One of the biggest advantages of card-linked offers is convenience. Customers don't have to remember to bring coupons or loyalty cards with them when they shop – the discount is automatically applied to their purchase when they use their registered card. This makes it easier for retailers to attract customers and build loyalty, as there are fewer barriers to entry for customers who might be hesitant to join a traditional rewards program.
Another advantage of card-linked offers is their targeted nature. Retailers can use data analytics to identify which customers are most likely to respond to a particular offer and then tailor the offer accordingly. This means that customers are more likely to receive discounts and rewards that are relevant to their interests and spending habits, which can lead to greater engagement and loyalty over time.
Where card-linked offers fall short
While there are many benefits to card-linked offers, there are also some drawbacks to consider. One of the biggest concerns is privacy. Customers who participate in card-linked programs are essentially allowing retailers and payment processors to track their spending habits and purchase history, which could potentially be used for marketing purposes. While most retailers have strict privacy policies in place to protect customer data, there is always a risk of data breaches or misuse of information.
Another drawback of card-linked offers is their limited availability. While many retailers and payment processors now offer CLOs, not all merchants are participating in these programs. This means that customers may miss out on potential discounts and rewards if they shop at stores that don't offer card-linked incentives. Additionally, many CLOs are aimed at new customers or come with exclusions and restrictions, meaning loyal customers miss out on their introductory rewards and benefits.
Combining the power of e-gift cards with card-linked offers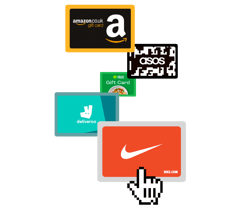 One way to overcome the limitations of card-linked offers is to combine them with traditional rewards and loyalty programs that utilize gift cards. By offering customers the option to purchase an e-gift card that can then be linked to their digital wallet, retailers can provide an additional incentive for customers to shop at their stores.
Like CLOs, digital gift cards can also be used to target specific customer segments, such as high-value customers or new customers who are being introduced to the brand for the first time. But unlike CLOs, a rewards and loyalty strategy utilizing digital gift cards is more cost-effective to implement, has lower set-up fees, and won't be restricted to a limited number of top-tier brands. Digital gift cards can also be highly personalized, ensuring maximum efficacy for each consumer regardless of their personal preferences.
| | |
| --- | --- |
| Card-linked offers | Digital gift cards |
| Frictionless for the consumer | Requires redemption |
| Limited time offers | Always on offers |
| Fewer top-tier retailers | Access to 1,000s of top-tier retailers |
| Can be restricted to new customers | Available to new and returning customers |
| Offer stacking restrictions | Can be used with other offers |
| Can be costly & time-consuming to set up | Access Tillo's catalog of 2000+ retailers with one API connection |
| Relatively new and can be intimidating to older generations | Familiar to a wide demographic |
Learn more about how gift cards match up to card-linked offers
Enhancing loyalty, acquisition, and account activation with digital gift cards
By combining the existing power of e-gift cards with card-linked offers, retailers and fintechs can create comprehensive acquisition strategies and loyalty programs that appeal to a wider range of customers.
At Tillo, we make it easy for Fintechs and retailers to balance loyalty and acquisition by connecting them to the fastest-growing global network of 2,000+ brands that their customers love most and 100+ gift card programs and initiatives that are waiting to uncover new and exciting use cases for gift cards.
Ready to find out more?

Get in touch with us today to learn more about how Tillo can support fintechs with loyalty, acquisition, and account activation.