We recently sat down with Maria Khoury, Head of Operations, to find out more about what she's been up to recently. Maria's team has almost tripled in size over the last 12 months and she has no plans on slowing down any time soon! Here's what she had to say…
Hi Maria, it feels like it wasn't that long ago that we were wishing you a happy one year Tilloversary, now it's two! You continue to have a huge impact on the business, can you give us an overview of what the Operations Team, you head up, is responsible for?
So, Operations is mainly responsible for two key areas; the first is onboarding new customers onto the Tillo network, whether that's retailers, partners, or new suppliers, the second area we're responsible for is client services. That's essentially the ongoing support that our partners or retailers may need, whether it's about redemption issues, setting up new promotional campaigns, or API issues.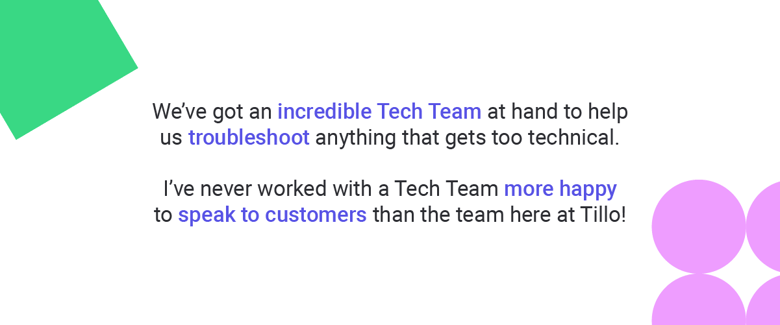 Because the Tillo platform plugs into so many different APIs, whether that's direct to brands, and to different third party processors, there's a fairly complex network going on behind the scenes to keep everything our Tillo Customers see in their Tillo Hub up and running. A big part of the Ops team is to help manage all the different relationships between retailers and partners, and understand the intricacies of them all to make sure the experience our clients receive is a seamless one.

I feel really fortunate to be working with a group of such talented and kind people who really care about making sure each customer gets the best possible experience.
Tillo continues to scale at a rapid pace. What's the biggest challenge Tillo's growth has presented and how have you overcome it?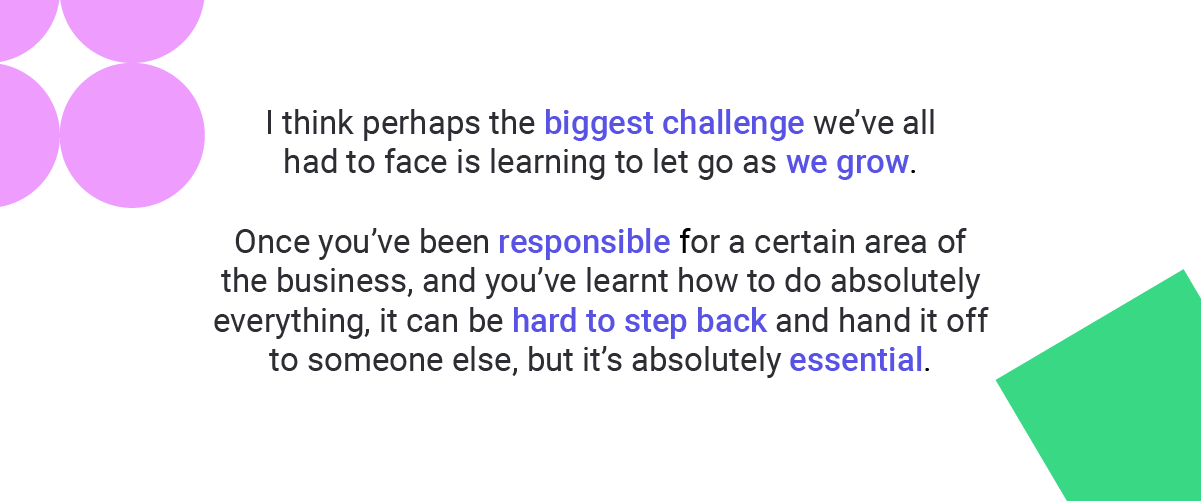 Not only do you have to let things go, you have to build processes, share knowledge, and train your team to be leaders that can help you scale the business. There's an article by Molly Graham which was recommended to us at one of the Tech Nation Upscale conferences, who describes this really well.
You recently made your first US hire, what are your departmental plans as you look towards next year?
Recruiting our first US hire was always going to be a pivotal one - someone who's got all the right experience but also someone happy rolling with the changes as we work through scaling up our US Client Services team.
We're lucky to have found Marissa, she's as excited as we are about building the foundations for our first US Client Services team. Marissa's already made a huge impact by being able to support our existing US partners out of our usual UK Office hours so they're already benefiting from quicker response times and someone who can more easily liaise with our US suppliers.
Alongside her, Nicolas will be moving from our UK team to build the foundations of the onboarding function in the US, taking with him all the processes and systems we have in place here and helping shape them to fit our US market.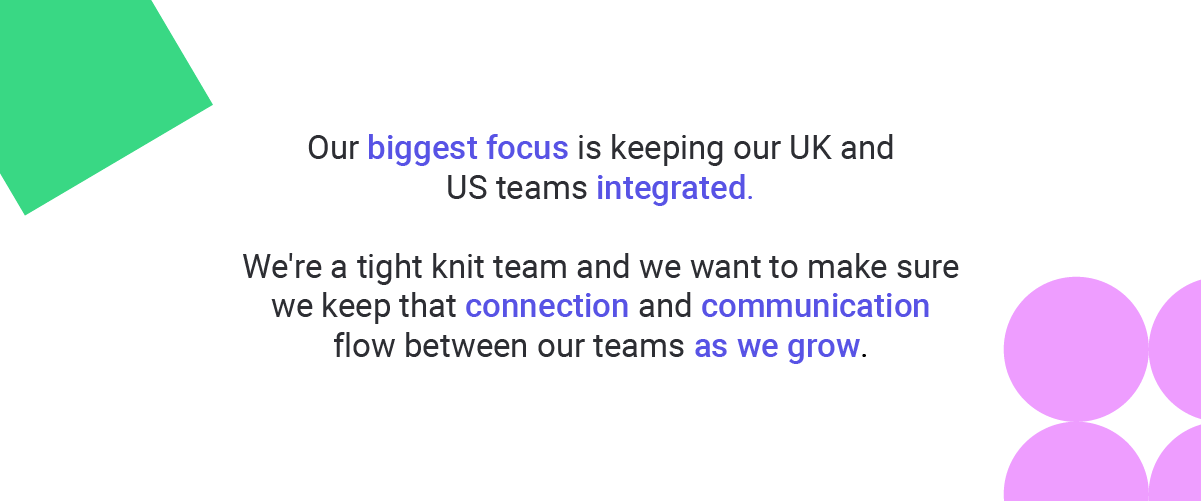 Over the next 12 months, we'll continue to make a clearer division between the Onboarding and Client Service functions, where we used to be one big team that would support in all areas - it's becoming more and more important to have a dedicated focus in each area to ensure we have the processes, skills and knowledge in place to help us provide a level of service that delights the growing number, size and complexity of partners we're bringing on board. It's amazing how many more use cases we're seeing with each partner that comes on board - we need to make sure we have a dedicated team that can really get to know each one and what their goals are so we can tailor their onboarding process and ongoing service.
We're also focussing heavily on making as much self service content as possible - we love talking to our partners, but we know they'd much rather just have the answers they need at their fingertips. Last year we had 65% of inbound tickets resolved by help articles that didn't need to come through to a support agent. We're improving our support systems and reporting so we can better analyse trends and produce content that helps our partners, and also that will help us identify issues that we need to work with our suppliers on.
How has your team grown in the last 12 months or so? Any other key hires?
In the last 12 months the team has almost tripled in size! Nicolas was our first hire who came on board solely to take on onboarding new clients, we'll be sorry not to see him in the office so much when he moves to the US but grateful that we'll have another strong founding member of our US team to scale the onboarding function.
We also hired our ray of sunshine, Andrea, to help Support Steven (our longest standing, founding member of the Client Services Team!) and Samantha who joined us from Accounts who brings with her a sharp eye for detail and knowledge of the complex financial workings that go on behind the scenes!
Most recently, I was thrilled to hire Paul Hemsley as our Implementation Manager who I've worked with previously in another SaaS company and comes with a proven track record of scaling Onboarding and Professional service teams. Next on the list, I'm looking to hire a Client Services Team Lead in the new year (why not check out our Careers page to find out more?...)
Peak season is just around the corner, you've seen a couple of these now, what's it like to work in ops during this time?
Peak is a word that puts butterflies in our stomachs, but it's also what we thrive on, we're all built for this! Honestly, you never know what's going to happen one year to the next at the moment as world events are so unpredictable, so we have to be quick to react as there may be sudden surges in demand for areas of the market that we may not have predicted and unforeseen challenges to tackle.
We've got great relationships with all our partners, suppliers and brands - and at this time of year we rely on those close relationships to support each other and make sure that Peak trading season is a success for all involved. The Gift Card Industry is a great one to be in even at the most chaotic times, whether you're a partner sourcing content, a brand expanding their gift card programme or a supplier or processor that's helping us provide the service - it always feels like we're working together towards the same goal.
What advice/tips would you give our partners and retailers/brands as they gear up for peak?
For partners, if you want to make sure you've got the most extensive brand catalogue ready for peak, start adding those now and request them through your account - a lot of brands can be added right away but others require approval and some of the bigger brands may have longer lead times and need more information to get you approved.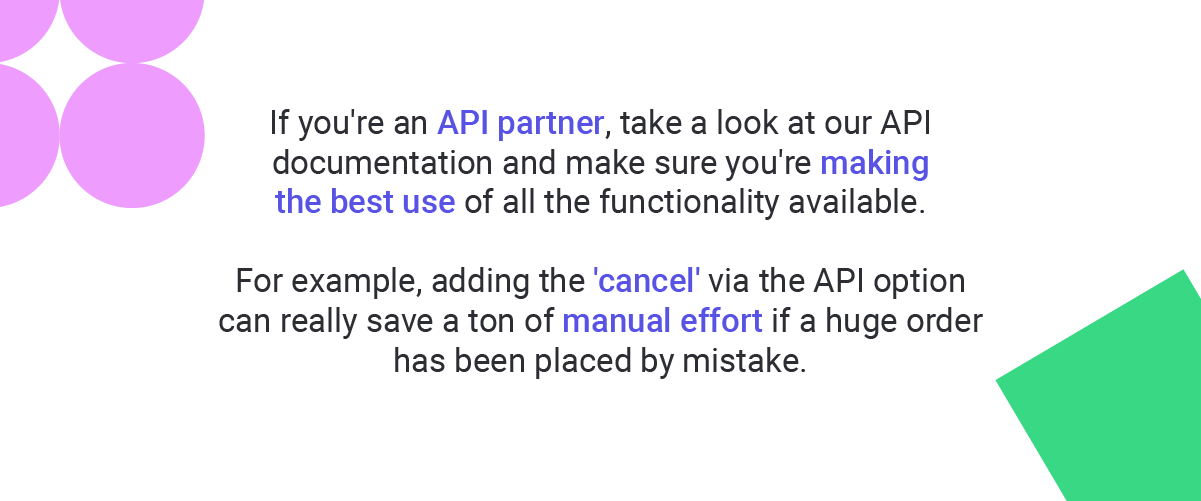 Encourage your customers to reach out to the retailers directly wherever possible, although we're always on hand to facilitate the resolution to any redemption issues - we find in the majority of cases that end users (those who are actually redeeming the gift cards) get the help they need by speaking to brands directly as they can easily share any sensitive information and exact details of what the issue is without a third party in the middle relaying the information. This also helps us by highlighting which brands are delivering the level of service we'd expect on the Tillo Network - e.g if your customer doesn't get the help they need from the brand directly, this is something we'd work with the retailer to improve.
For brands/retailers, ensure you have any seasonal discounts and offers ready and communicate them to partners - our wonderful Account Management team can certainly help with this! We have an option within the system where Brands can set up promotions and communicate them straight out to Partners. You can check out the help guide is here.
Changing direction a bit, you are one of the qualified mental health first aiders at Tillo. Why was it important to you to undergo the training? Would you recommend it to other managers?
Working in a fast-growing start up can be a real rush (to me, it's the most exciting kind of business to be in), but it can also be a high-pressure environment. There's definitely a fine line between pressure that's invigorating and stress, so I wanted to do the Mental Health First Aid training to make sure I was best placed to support my team's wellbeing and spot the signs of stress early. I'd definitely recommend the training. I've gained a better understanding of the types of mental health difficulties people face and the best way to offer support - I'm really thankful that Tillo funded the qualification.
Finally, in addition to the demands of heading up the Operations Team, you're also one of Tillo's most committed volunteers. What do you like most about volunteering?
I think the thing I like most about the telephone befriending I do with the OnHand app is the opportunity it gives me to step outside of my own life for a while, and it puts the craziness of work in perspective. No matter how busy your day is, if you can spare just 30 minutes or an hour it will make all the difference - both to you and to the person who's got a friendly ear that's going to listen to them. OnHand themselves are great at supporting their volunteers, so you're not alone if you ever find yourself wondering how best to support someone you've been connected with.