In our rapidly changing banking landscape, neobanks have emerged as a powerful force, challenging traditional banks by offering consumers a new digital-first banking experience.
With customers increasingly showing demand for convenience, accessibility, and personalization, neobanks have been given the opportunity to cement themselves as market leaders by making the most of their digital-first platforms to build strong customer relationships.
In this blog post, we're going to take a closer look at personalization, uncovering how neobanks are using it to deliver a better digital experience to their customers, why traditional banks are still playing catch-up, and the role that personalized rewards have to play in helping neobanks to achieve sustainable and profitable growth.
Delivering a more personalized digital experience
The importance of digital experience cannot be overstated, especially in today's world, where customers expect a seamless, user-friendly interface across all their devices.
Neobanks typically excel in this regard, providing a hassle-free, more personalized experience for consumers from the moment they open an account. But the same can't be said for all financial institutions.
A study by Forrester Consulting on behalf of Blend found that financial institutions rank fourth out of five when it comes to personalization, with just 14% of banking customers describing their financial institution as 'extremely effective' at personalization.
Retailers and media institutions ranked first and second in the same study for their personalization efforts, respectively, which poses the question - why do some financial institutions lag so far behind?
Are banks playing personalization catchup?
The truth is that traditional financial institutions often experience a delay when it comes to customer innovation.
While retailers and media providers were investing heavily in personalization, traditional banks were still building their very first mobile apps, leaving them playing a game of personalization catch-up long after consumers had already become used to a far more personalized digital experience in other areas of their lives.
This left an opening for neobanks to swoop in and offer something to their customers that traditional banks had yet to consider - a personalized banking experience.
By leveraging data analytics, artificial intelligence, and their pre-existing digital infrastructure, neobanks were able to gain an understanding of their customer's spending habits and financial goals, utilizing this information to offer them personalized insights and recommendations from within their neobanking app.
Delivering personalization and the brands customers love
These kinds of user data can also be used by neobanks to create tailored rewards programs based on the spending patterns of their customers and delivered using the power of digital gift cards.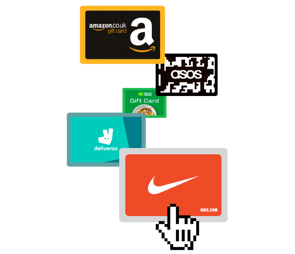 Digital rewards programs can be used to incentivize account engagement and customer referrals while simultaneously creating a sense of loyalty towards the neobank itself. By offering personalized rewards and incentives such as digital gift cards for popular brands that customers love, neobanks can ensure that each and every one of their customers feel valued and understood, strengthening their relationship and helping to ensure that they remain loyal despite a rising number of other challenger brands.
Talk to Tillo about bringing personalization to banking rewards and incentives
Tillo makes it easy for neobanks to deliver a personalized rewards experience to their customers by connecting them to the brands their customers love most while simultaneously lowering their cost of acquisition by taking advantage of gift card discounts.
Our award-winning platform and plug-and-go API offer neobanks the opportunity to connect seamlessly with the fastest-growing digital gift card network with 2,000+ brands across 36 countries - ensuring there's something for every customer whether they're a foodie, into fashion, like to travel, or enjoy the latest tech.
By choosing Tillo to power their gift card program, neobanks can gain access to exclusive gift card discounts that help to make their rewards strategies more cost-effective.
To find out more about how Tillo is helping neobanks to supercharge a more personal rewards experience, get in touch with us today.