Todays' digitally-savvy consumers want instant access to the brands they love as the use of digital gift cards is growing - last year, digital gift card sales were up 90.7% on a rolling year basis (GCVA).
If you're considering launching a digital gift card or loyalty programme, you might have heard the term: "API". But what is an API? What does it do? And why do organisations looking to buy digital gift cards need to use one? Here's our ultimate guide to finding the best digital gift card API.
What is a gift card platform API?
An API (application programming interface) is a set of protocols or definitions that enables the secure integration of application software - essentially enabling multiple platforms to communicate.
IBM highlights that "API use has surged over the past decade, to the extent that many of the most popular web applications today wouldn't be possible without APIs".
For example, travel search platforms like Skyscanner integrate with various airlines by calling on their APIs to bring you the best deals.
In the context of digital gift cards, an API is used to connect organisations that have a need to deliver digital gift cards at scale, easily placing orders with brands and delivering the gift cards to recipients.
Enterprises that require digital gift card content to fulfil loyalty, rewards and incentives programmes may need to partner with a digital gift card platform with a strong API to ensure that they can scale their programmes across hundreds of brands in multiple markets and currencies, without needing to manage each relationship individually.
Equally, brands need an easy way to sell digital gift cards in bulk to these businesses, without needing to manage these relationships manually.
Before digital gift card APIs like Tillo existed, both brands and partners would need to dedicate enormous amounts of time and resources to managing contracts, floats and processes. Delays were common and employees had to manage lengthy spreadsheets.
Now, they can instantly manage and deliver exciting rewards at scale, in real-time.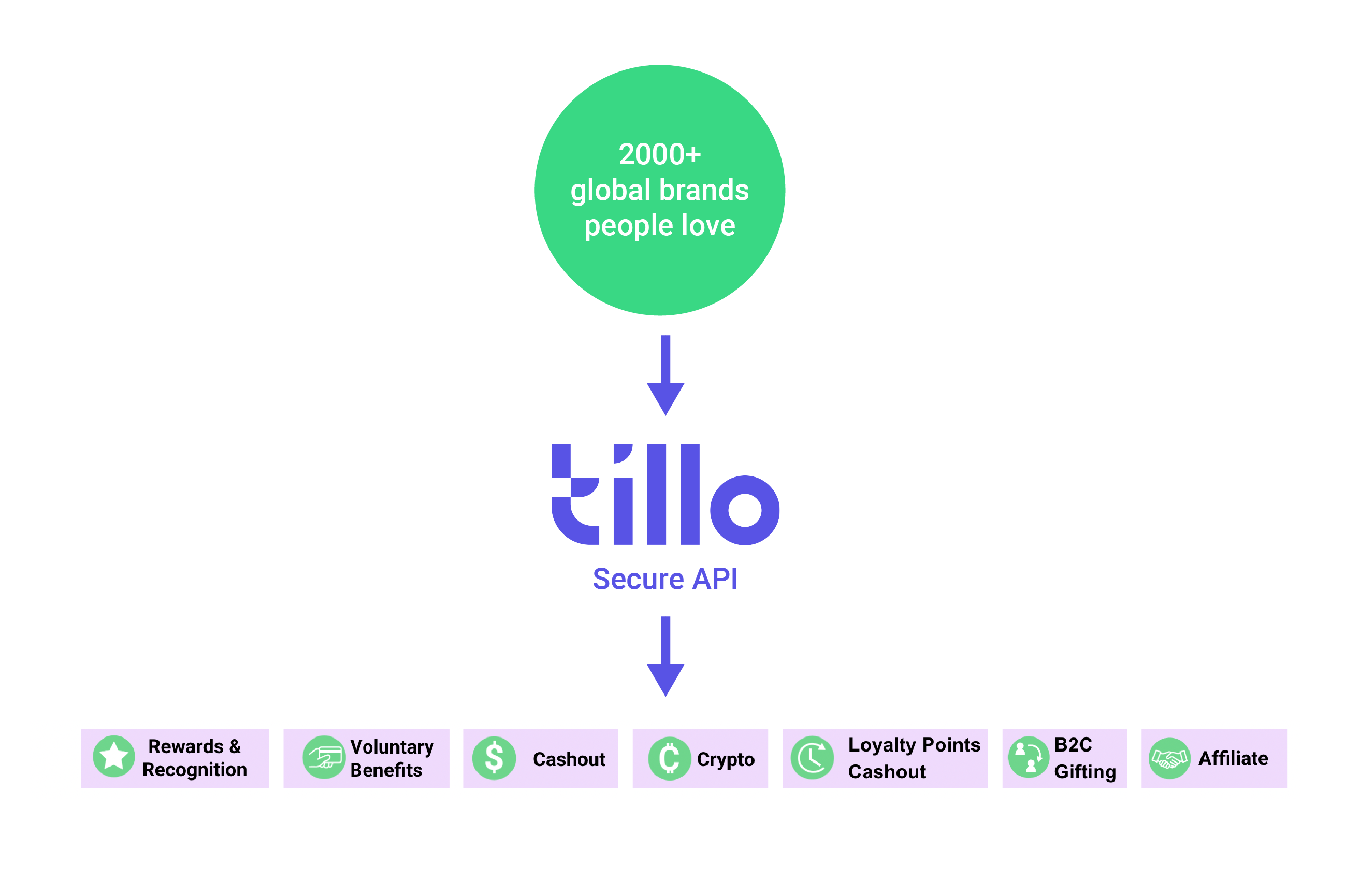 How the Tillo API supports various digital gift card use cases by connecting them with 1000s of brands.
Do you need a gift card API?
Whether or not you need to connect to a gift card API depends on how you're planning to use digital gift cards.
You should weigh up whether you need to simply bulk buy digital gift cards or use an API platform to deliver them.
For one-off bulk orders, it's unlikely that you need to integrate with an API; in fact, you might not even have a platform that could be integrated. For example, you might just want to buy 2,000 of your employees a £50 gift voucher for John Lewis.
In this instance, only one side of the API is being used - that between the gift card provider and the brand whose content you're purchasing. Visit our bulk buy page to learn more and you can even get a £50 gift card of your own when you make a purchase.
However, if your loyalty or rewards programme requires you to provide digital gift cards on-demand, in real-time then it's likely you'll need to integrate with a gift card API.
When assessing whether you need to integrate with a gift card provider, consider if you need to be able to:
Deliver digital gift cards instantly when customers request them (for example, with a self-serve loyalty programme or voluntary benefits). An API means this can happen in seconds.
Manage multiple retailer relationships across several markets.
Regularly expand the range of brands you offer.
Track and report on what kinds of gift cards your customers are purchasing.
Offer customers open value gift cards, not just fixed denominations.
Avoid keeping digital gift card stock which ties up money and means you'll have to worry about using all the stock with enough time before the gift cards expire.
If you answered yes to some of these questions, an API can help you manage your gift card programme more efficiently.
Finding the best gift card API: 5 considerations.
If you've decided that you definitely need a digital gift card API to power your programme, here's what to look out for to ensure that you get a solution you're happy with:
1. How easy is it to onboard?
Before signing up for a digital gift card platform, ask how long it usually takes to integrate the API, and if they have clear API documentation that can help your engineering team complete the process as soon as possible.
The integration process can be done in a matter of days, if you've already got experienced software engineers in-house.
2. How much support will you get?
Even with a strong team of in-house developers, there can still be hurdles. So it's important to ensure that the provider you're using can offer some support to help ensure that the integration goes smoothly.
At Tillo, our engineers and onboarding specialists are on-hand to support your engineering team when you're integrating the platform.
3. Does the digital gift card platform also integrate with banks?
It's a given that the API should integrate with your business as well as retailers - but being able to connect directly with banks can make it even easier to manage the financials.
Ensuring it's easier than ever to top up your float, Tillo is the only gift card management platform that integrates with leading banks in the UK - so you can manage money in real-time and streamline distribution.
4. Is the API always evolving?
The best platforms are always improving their API and their platform to deliver a superior user experience.
Ask the providers you're considering about their product road-map to get a feel for how they're looking to improve their services.
5. What are their growth plans?
To be able to offer your customers all the brands they love, you'll want to opt for an API provider that's always onboarding new retailers to their network so that you can expand your own offering.
Find out how many new retailers the provider onboarded the previous quarter and what their plans our to grow their network in the future. If their growth plans for your key regions are aligned with your own goals then they'll likely be a good fit.
Meet Tillo's award-winning API
One platform. One contract. Simply plug-and-go.
Tillo's mission is to create moments that surprise and delight - not just by delivering gift cards to your customers, but also when you're using our platform.
Tillo's award-winning API is the most comprehensive on the market; we connect over 2000+ brands and partners, across 34 countries and 16 currencies. We make it easy for our partners to scale and enable new markets; you only need a single integration and a single contract.
And our Tillo hub is self-service, giving our brands and printers more control and flexibility. It's also very user friendly and we make it a priority to ensure that the user experience is a delight from start to finish.
Sign up for a demo here if you're interested to learn more.