Tillo recently opened a new strategic chapter with expansion into the thriving Australian market. 🇦🇺

Get to know our new Head of Retail Partnerships for Australia, Steve Toth, in this meet-the-team Q&A. Let's jump in!

Welcome to the Tillo family, Steve! To kick things off, can you tell us a bit about your professional background and what led you to join Tillo?
I have been heavily involved in Start-ups and Scale-up businesses with a special focus on industry disruptors, ranging from traditional Bricks & Mortar to Fintech businesses, but in the last decade, I have developed a keen interest in the customer journey, customer loyalty, and rewards industry.
Holding executive experience with companies such as Blackhawk Network Australia and Airtasker, I have come to appreciate the importance of helping businesses grow through great customer experiences. This journey led me to Tillo, a refreshingly innovative company that prides itself on helping businesses grow through its embedded rewards and incentives platform.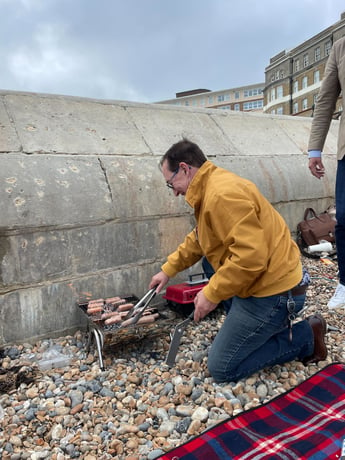 Steve visiting Tillo in the UK and experiencing a typical British BBQ on the beach.
Digital gift cards have been gaining traction globally. What potential do you see for them in the Australian landscape?
Australia has grown up with physical gift cards over the last 20 years, and global borders opening the world to Australia means the new currency is digital. The increasing importance of customer rewards and loyalty has driven the need for digital gift cards, which enable businesses to recognize customers and employees instantly - digital is the best solution!

Tillo's expansion into the US and opening an office in Austin was a significant move. What parallels and differences do you anticipate between the Australian and US markets?
Besides the size of the market between each country, Australia is closely aligned with the US regarding trends in digital rewards and gift giving; however, due to our smaller population, culturally, we reward and recognize our customers and employees in a more intimate way.
One of the exciting things about Tillo is its ability to power more personalized rewards and incentives with its digital products such as Wrappr and ChoiceLink.

Australia is home to a plethora of iconic brands, each with its own story and values. How do you see these brands enriching Tillo's already diverse catalog?
Australia is renowned for its multicultural nature. Diversity is in our blood and expected. Despite our small size on the global stage, Australia has made a big noise, with many of our local brands expanding across the US, UK, and Europe. So, I am very excited for Tillo to collaborate with these brands in Australia and support their offering to the rest of the world.
Incorporating Australian brands into Tillo's network seems like a mutual benefit. While Tillo gets enriched with local flavors, how do you think Australian brands stand to gain by joining the Tillo platform?
With Tillo's ability to handle and process multiple currencies and its latest tech-rich platform, Australian brands can have full control of their offering throughout the rest of the world from the comfort of their desk or armchair. Not to mention, they can also have their gift cards featured in Tillo's global programs.
Tillo has grown rapidly, with over $2 billion in total transactions and an expanding global presence. What are you personally most excited about in this new chapter with Tillo in Australia?
I love the excitement of a new business that disrupts the market and helps its customers incrementally grow their business.
Not being tied down with legacy systems allows Tillo to deliver a unique experience to its customers and brands. It's like jumping from an old model car into a new electrical vehicle. The rules are being rewritten!