There are lots of things that managers and HR professionals can do to keep employees engaged, productive and happy at work.
And one tactic that's become more popular in recent years is the use of employee benefit platforms.
Just 10 years ago, employee benefits were seen as more of a unique, creative and nice-to-have perk. But today employees expect more from their organisations.
With top talent in high demand, benefits programmes are fast becoming an essential to keep employees around. And employees want more from their benefits.
In fact, 73% of full-time employees now want and expect to have 24/7 access to their benefits.
The likes of Reward Gateway, Edenred, Personal Group, and Next Jump offer comprehensive solutions that allow employees to tap into benefits whenever and wherever they like.
If you're thinking "we don't need an employee benefits platform" or "I'm not sure it's worth the cost", here's why investing in employee benefits is worthwhile for your business.
What is an employee benefits platform and how does it work?
First off, you might be wondering what employee benefits platforms actually do.
An employee benefits platform is a central hub for businesses to manage employee benefits and perks.
There are a few different varieties of employee benefits platforms out there but most of them work like this (although depending on the platform and subscription type, features will vary):
Employees get access to a central hub where they can access a wide range of deals and discounts.
Most employee benefits platforms enable employees to purchase digital gift cards at a discounted rate, saving them money on key purchases. This is also known as voluntary benefits.
With some platforms, you can also add your own benefits or personalise rewards depending on your needs.
Employees can also earn credit on their purchases with card-linked perks.
Most platforms also offer wellbeing solutions to help employees prioritise their mental health as well as their fitness.
Some platforms also make it easier to recognise and reward individual employees and even have functionality to survey employees on the employee experience.



7 benefits of employee benefits platforms
1. Foster loyalty
There's nothing surprising about the fact that happy, rewarded and recognised employees are more productive and successful in their jobs.
Salary and strong leadership are obviously key factors in creating job satisfaction - and fostering loyalty amongst employees. However, benefits are another way to differentiate yourself from competitors and delight your employees that little bit extra.
Here are the stats:
72% of employees said having more work benefits would increase their job satisfaction. (

Zoro

).
79% of Gen Z and Millennial employees said that an increase in recognition and rewards would make them more loyal to their employers (

daVinci Payments

).


Employee benefits platforms enable companies to boost motivation and engagement, and build a culture of appreciation with personalised rewards.
2. Attract and retain talented employees
The hiring market is currently very competitive, and with so much talk of "the great resignation," how can your business attract and hang on to the best talent to keep propelling your organisation forwards?
When new applicants are assessing similar roles, having an employee benefits program can actually say a lot about your company - and the kind of culture that you have (hopefully one that rewards and recognizes employees for their hard work).
There's lots of evidence that employees value benefits in addition to salary, training etc.
Indeed, Accenture reports that two-thirds of workers would trade their work-related data for more customised compensation, benefits and rewards.
Whether or not your competitors have one too, an employee benefits platform can show existing and prospective employees that you care about them - boosting your retention and hiring rates.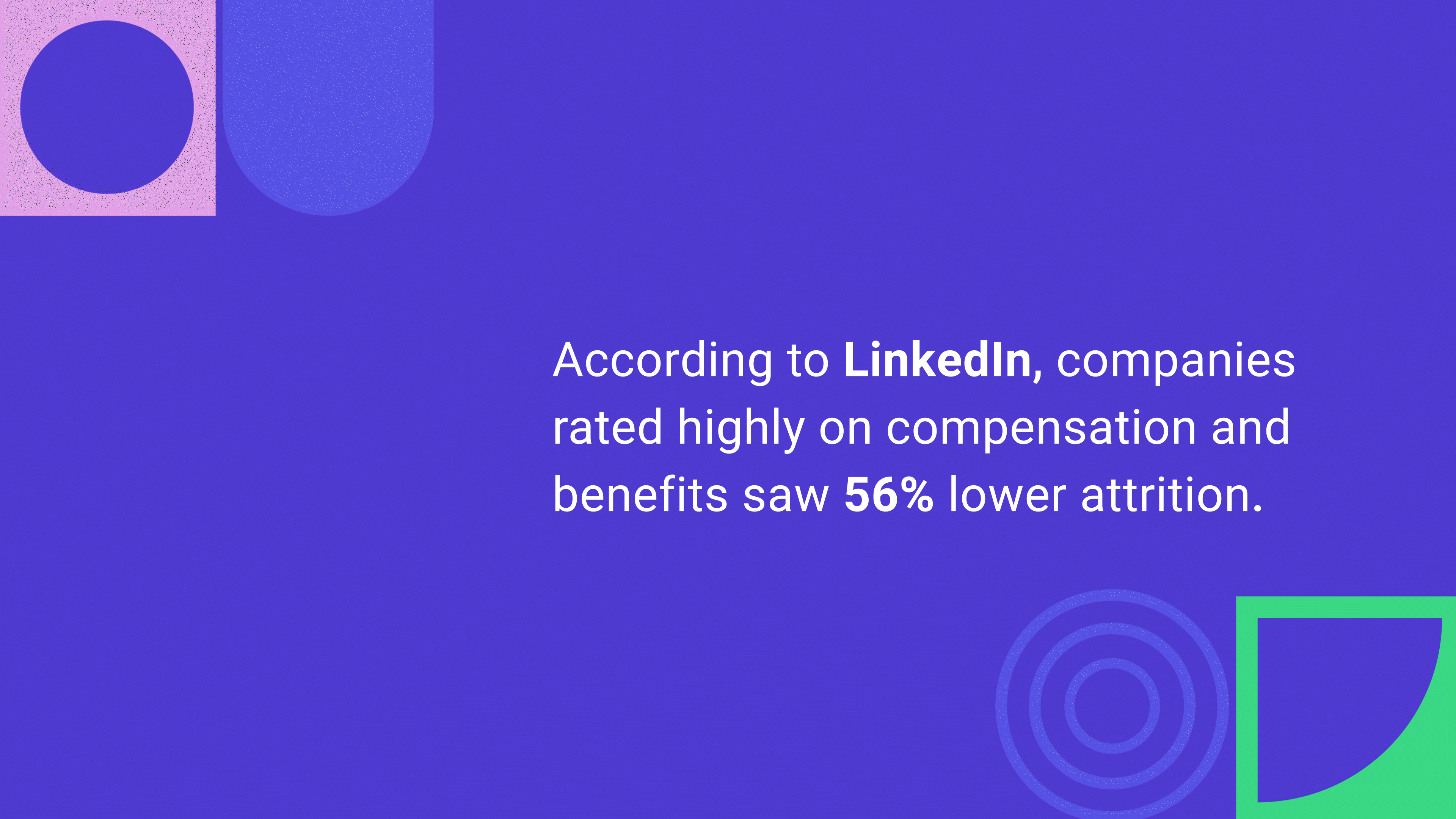 Source: LinkedIn.
3. Engage employees remotely
The pandemic has reshaped the world of work for many employees.
As more employees are working remotely or perhaps returning to the office part-time following a hybrid model, it's more important than ever to recognise their hard work and provide them with some extra perks.
In a recent study, 21% of 1900 remote workers said that their biggest struggle was loneliness and feeling disconnected from colleagues.
As part of a remote work strategy, benefits and reward platforms allow you to easily care for and celebrate your employees - no matter where they are geographically.
For Enterprise organisations that operate globally, the discounted digital gift card coverage offered by platforms may be lacking in some regions. Some providers like RewardGateway use Tillo's RewardPass as a solution to this. Our customisable and flexible prepaid Mastercard enables employers to send rewards to employees in areas that aren't as well served and works at over 32 million locations worldwide.
4. Take care of your employees mental and physical wellbeing
56% of people say that if their employer proactively supported their mental wellbeing, it would help them to feel more loyal, be more productive and take less time off work (Health Shield).
Creating a culture where employee wellbeing comes first is essential for the success of any business.
But how can your employee benefits help you do this?
Most providers provide a range of wellbeing content and benefits to support employee wellness - from articles to top tips, videos, virtual classes or subscriptions, professional therapy sessions and more.
Some platforms will also enable you to manage employee healthcare, dental, and eye care plans through their central hub so that employees know where to go for all their wellbeing needs.
5. Support your employees' financial wellbeing
Money - or money concerns - is a huge stressor for employed adults in the UK, making it a core part of protecting employees' overall wellbeing.
Did you know that as many as 7 out of 10 UK employers believe that staff performance is negatively affected when employees are under financial pressure? (Money and Pensions Service).
To address this, employers can:
Work to understand financial issues in the workplace.
Provide professional financial advice and share helpful resources - some employee benefits platforms also offer this functionality as part of a wellbeing hub.
Pay a fair salary and be mindful of expenses (this is crucial).
Use a benefits package to make salaries go further every month.


An employee benefits platform can also help address this last point; the discounted rates employees receive enables them to save more each month.
At a time when inflation rates are pushing food prices higher and with energy prices soaring, discounts on the supermarket shop, electrical appliances and energy supply can help employees stretch their budget a little further, and save more over the long term.
Benefits platforms that enable employees to earn points when they spend - and can then cash out onto a digital gift card - can also help money go further.
6. Help your HR function
Ensure you never miss an employee's birthday again!
The platform should remember birthdays and anniversaries for you; several platforms enable you to send gifts automatically on an employee's birthday or give the employee a choice over their preferred gift.
Managing rewards and benefits in one central platform can save your HR team time, allowing them to automate key functions and integrate processes where possible. For example, wellbeing functionality will also make it easier for HR to provide a better overall employee experience - all in one place.
You'll also be able to track employee engagement and see which benefits are the most popular - to help you improve your benefits programme further.
7. Cater to every taste
Employees are diverse - and that's a thing to celebrate!
But it can sometimes make employee gifting and rewards tricky.
That's where an employee benefits platform can be especially helpful - giving employees a choice of which benefits they'd like to make use of means that they'll end up with something they actually like, and appreciate it all the more.
In fact, employees are looking for more diverse and personalised benefits. According to MetLife, 76% of millennials reported that benefits customization is important for increasing their loyalty, compared to 67% of baby boomers.
Here's a checklist to help you choose the right employee benefits platform:
If you've been convinced by the case for employee benefits, here's some considerations to help you assess the right platform to use.
How much does it cost? There's often a monthly fee and a setup cost.
What features do you need? If you want a more bespoke benefits platform to add your own custom benefits and manage more of your HR needs, it's likely to cost more but be more convenient.
What range of digital gift card content does it offer? Ensure that the provider you use gives your employees access to the brands they love. Tillo is a digital gift card aggregator that integrates with employee benefits platforms; we have a network of over 1,200 brands.
Ensure the provider has the right security measures in place.
Do you need to integrate your current benefits? If you already have some benefits that you'd like to keep offering, your platform provider may be able to work with you to find the best solution.


Sounds pretty exciting right?
If you'd like to learn more, check out our Reward Gateway case study to learn how Tillo helped make their gift card offering frictionless, connecting Reward Gateway to 88 retailers and 84 countries through a single API connection. Their platform drives delight and loyalty for employees!