Banking has become an essential part of our lives. From paying bills to shopping online, we rely heavily on banking services to conduct our day-to-day lives. However, only some have access to a bank account.
In fact, according to the World Bank, over 1.7 billion people worldwide are unbanked. While, in many cases, this is due to poverty and lack of access to technology and associated financial services, an increasing number of people are actively choosing to become unbanked.
More than one-fifth (22%) of the Unbanked who have had accounts have voluntarily left the mainstream banking system
🏦
What does it mean to be 'unbanked'?
A person defined as unbanked does not have a bank account or access to traditional banking services. There are many reasons why people are unbanked. For some, it is due to a lack of access to financial services in their area or a lack of funds to start a bank account in the first place, but for others, it's due to a lack of trust in financial institutions.
"Don't trust banks" was the second-most cited reason for not having an account in 2021 (13.2 percent), and "Avoiding a bank gives more privacy" was the third-most cited reason (8.4 percent)

💰
The unbanked have traditionally been forced to manage their money through alternative financial services, such as cash-based transactions, prepaid cards, and money transfer services. However, for those with access to technology, the rise of cryptocurrencies has provided an alternative way to manage money online without a bank account.
The rise of the unbanked crypto consumer
Cryptocurrencies are decentralized digital assets that are not controlled by a central authority or government. The decentralized nature of crypto makes it highly secure and means that users have more control over their finances and can remain anonymous when making transactions.
For the unbanked and privacy-conscious, cryptocurrencies provide a way to participate in the global economy without needing a traditional bank account. However, the wide-scale adoption of crypto still presents a challenge, especially when spending cryptocurrency outside of the crypto market.
As it stands, most crypto users must cash out their cryptocurrencies before making payments for goods, services, or bills. To cash out to a fiat currency such as GBP or USD, users must once again have a bank account - at which point the use of crypto begins to exclude the unbanked.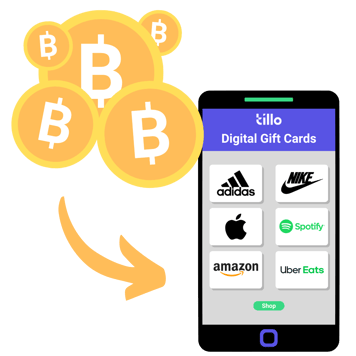 Offering crypto users the option to cash out their cryptocurrency to gift cards solves the problems associated with cashing out to fiat currency while simultaneously helping to bridge the gap between crypto adoption and global retailers.
Cashing out onto gift cards allows crypto users to access a form of payment that is trusted, secure, and widely adopted, giving them the power to spend the value of their cryptocurrency at the brands they love most, without retailers needing to accept crypto or users needing to open a bank account.
The value of crypto consumers for retailers
For retailers, tapping into the crypto market can provide access to a large and growing group of consumers, including a segment of the unbanked and privacy-conscious who choose to use crypto as an alternative to traditional banking.
Using Tillo's innovative platform, retailers can gain access to crypto-based initiatives such as crypto exchanges and offer their gift cards as a cash-out out option. By electing to be represented in crypto initiatives through Tillo, retailers can place their gift cards in front of a new emerging audience, capturing a previously untapped market.
To find out more and discover the potential of crypto for your business, get in touch with Tillo today.