Pizza Hut
Increasing
B2B

gift card sales

for Pizza Hut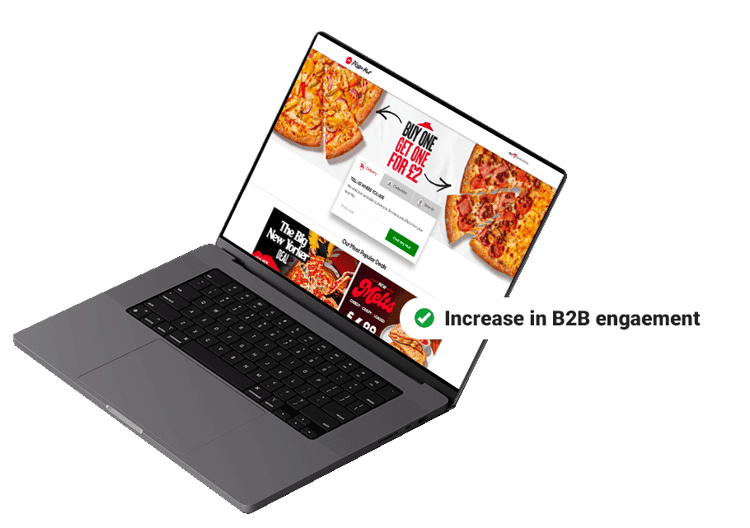 About Pizza Hut
Pizza Hut Restaurants has been proudly serving the UK for 50 years, with their first Hut opening in Islington in 1973.
Serving iconic dishes such as the ''Pan Pizza'' and ''Stuffed Crust'' across 150 restaurants in the UK, Pizza Hut Restaurants has successfully positioned itself as a space to enjoy good times and great food with friends and family.
Industry
Restaurant & Dining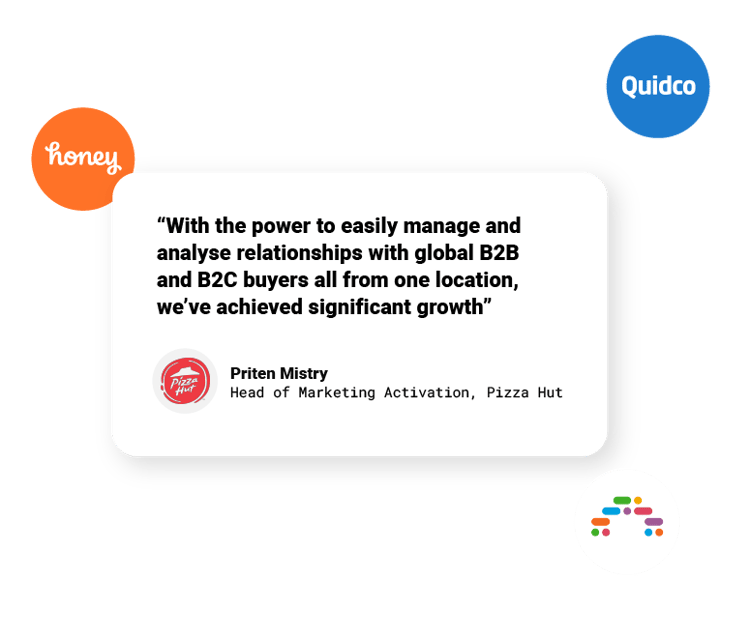 Challenge
Expand their reach in the B2B market, especially in rewards, recognition, and incentives, while decreasing administrative load.

Solution
Join the Tillo network, gaining access to new gift card Buyers in the B2B sector.

Result
66% growth in sales with Tillo in the first year, including new ties with 46 B2B Buyers on the Tillo platform.
Read more about how Pizza Hut is working with Tillo
Pizza Hut Restaurants came to Tillo with the goal of increasing its B2B reach while reducing operational hassle.
By becoming a Brand on the Tillo Network, Pizza Hut Restaurants was able to engage more B2B clients from one central platform. This not only led to a boost in B2B engagement but also reduced the time Pizza Hut Restaurants had to spend on admin tasks, thanks to Tillo's consolidated invoicing system.
One Hub, endless opportunities
By embracing Tillo's Brand Hub, Pizza Hut Restaurants was able to:
Connect with B2B buyers
Easily review, approve, and manage relationships with potential and existing B2B buyers from one centralised location.
Monitor transactions
With intuitive search and filters, Pizza Hut Restaurants can quickly locate, amend, re-issue, or even revoke gift card codes if needed.
Access insightful data
Real-time metrics and automated reporting on gift card performance are now at their fingertips.
24/7 customer support every step of the way
While working with Tillo, Pizza Hut Restaurants could always rely on consistent customer service, ensuring that the focus remained on delivering quality without any distractions.
"Tillo has been a game-changer for us. Their responsiveness and the efficiency of their platform allowed us to grow our B2B engagements significantly."
- Priten Mistry, Head of Marketing Activation
Benefits that echo across the Pizza Hut Restaurants business
Embracing Tillo's platform translated to a series of tangible benefits for Pizza Hut Restaurants. In their first year, they were able to:
Connect with 46 B2B buyers
Tillo's simplified approvals process led to increased interactions with B2B clients.
Enhance operational efficiency
Thanks to the Tillo Brand Hub, Pizza Hut Restaurants were able to reduce administrative time, leading to cost savings.
Increase gift card sales by 66%
With increased visibility and access to new B2B Buyers, Pizza Hut Restaurants was able to increase its gift card sales by 66%!
Hear from more of our customers