On Friday, the 10th of March, a team from Tillo traveled to South Wales to plant 1000 trees with Carma. It was a fantastic day filled with sunshine, laughter, fresh air, and trees… lots and lots of trees - 1000 trees to be exact - some were big, many were small, and quite a few were obnoxiously spikey.
Behind The Scenes - Tree Planting with Tillo
It was an early 6 am start from Tillo HQ, with most of the tree-planting team making their way to South Wales from Brighton via minibus. There were a few weary faces, but they were nothing that a quick caffeine stop couldn't fix, and before the team knew it, they were driving across the Prince of Wales Bridge and pulling into their planting destination.
After a quick round of bacon sandwiches, it was go time!
The team had 30 large broadleaf standard trees to plant and 970 hedgerow saplings, which would later form the body of two new hawthorn hedges.
Following a quick planting demonstration from Jim and his crew, it was time to get the trees into the ground, and thanks to a few extra pairs of little hands, in no time, a short hedgerow had started to appear!
It's safe to say that not everyone was a natural with a spade, but it didn't take long for people to assume their roles, and by lunchtime, a third of the trees were in the ground. The team couldn't believe the weather they were having - glorious sunshine made the day extra special considering the rest of Wales was white over with snow!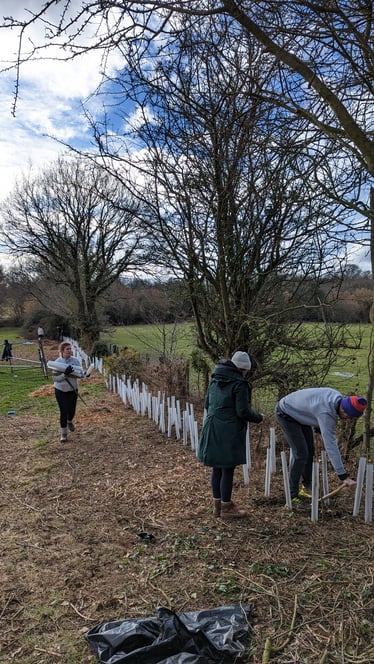 With around 600 trees still to plant, the team knew they had to pick up the pace, so after a quick hot dog and a few chips, they were back outside and ready to kick things into second gear.
As the afternoon progressed, the team indeed found their rhythm, and trees were going in left, right, and center.


At last, the hedge and planting were complete, but the day wasn't quite finished. From nowhere, Jim pulled out a beautiful hand-carved wooden plaque crafted from the wood of a naturally fallen tree.
As Jim knocked the plaque into the ground, the team had a chance to reflect on the day, admire their hard work, and appreciate the effort that goes into re-wilding the UK's lost woodland.
Let us tell you, planting 1000 trees is back-breaking work!
After a celebratory pint and a well-earned slice of lemon drizzle, it was time for the team to head home back to Brighton, this time with muddy wellies and happy hearts - eager to come back and see how their trees have grown in the years to come.
Why Tillo Was Planting Trees with Carma
Carma, formerly Rewards.Earth, was founded by Jim Holland and Iain Gurney with the simple mission "to make tomorrow better today", and they do so by making it easy for individuals to plant trees using a portion of the cashback they earn when shopping through Carma and for businesses give back to society and the ecosystem by sponsoring tree planting days - like the one Tillo participated in.
While Carma is on a mission to remove 1 billion tonnes of CO2 from the atmosphere and to re-plant some of the UK's lost woodland, it isn't just the UK countryside that benefits from their tree planting days - army veterans and landowners benefit too.
Carma's Founder, Jim Holland, is a veteran himself, and on leaving the Royal Navy, he experienced firsthand what it felt like to lose his forces family, his identity, and his purpose - something that many veterans struggle to come to terms with when they leave the forces.
It's a well-known fact that being outside in nature is good for mental health, and so Dr. Andrew Steel started the Green Task Force to give veterans a chance to come together and learn horticultural skills while simultaneously benefiting from the healing power of the great outdoors.
All of Carma's UK tree-planting projects are currently executed by the Green Task Force, which has now planted more than 3 million trees in and around the UK.
While Carma has several planting locations across the UK, they also work with private landowners to re-wild their hedgerows, fields, and borders. In many instances, landowners may not be able to afford the cost of planting trees themselves, but by working with Carma, they're able to have new trees planted for free!
Get involved and make a difference
Everyone has a role to play in protecting the environment, whether that's by planting trees, donating cashback to sustainable initiatives, or campaigning for climate action. If this post has inspired you to make a difference, then we can't speak highly enough about Jim and the team at Carma and highly recommend you book your own tree planting day.