Earlier this year, we were delighted to join experts from across the industry at the GCVA's annual conference - and we were especially excited to be able to attend in person again this year for what was a fantastic, insightful and smooth event.
One of the key buzzwords at the conference this year was "loyalty". In fact, Tillo's CEO, Alex Preece, chaired a panel discussion on "The continual rise of B2B and the role of loyalty," and panellists highlighted the increased need to drive loyalty - with both customers and employees.
The GCVA's 2021 H2 Summary highlighted that the digital gift card industry is growing YoY, with B2B playing a significant role and accounting for 59.4% of spend over the second half of 2021. And new and emerging loyalty use cases across all sorts of industries are driving this forwards.
Here we share some key takeaways from the conference as well as some wider considerations for your loyalty programme. We answer the question: why do you need a loyalty programme and how can you do it right?
How a loyalty programme can benefit your business
In the past, loyalty programmes were a "nice-to-have" rather than an essential; but today, they're becoming more of a must-have to stand apart from the competition, drive growth and keep the people that are important to your brand happy.
It seems that both employees and customers need more reasons to stay loyal in the current climate. A recent survey by Gartner showed that 38% of employees are currently looking to change roles within the next 12 months, and nearly half of today's applicants are considering at least two job offers simultaneously.
In a very much "employee-led" market and in the midst of the great resignation, there's a need for organisations to address the attrition and grow their bond with employees.
And as economic growth is gradually slowing in an inflationary environment, consumer spend will be spread more thinly so brands will need to fight for their share of customer spend. This is where loyalty comes in.
A loyalty programme can help you to:
Ensure customer retention. This is especially important when you consider that acquiring a new customer is

five times

more expensive than retaining an existing one.
Win new fans. Delivering a better customer experience with a standout loyalty programme can help you gain evergreen customers and incentives customers away from the competition.
Bolster your reputation. What do you want to be known for? Remember that your reputation is ultimately in the hands of your customers so encourage them to love your brand.
Be better than your competitors. Customers that are engaged in high-performing loyalty programmes are

twice as likely

to recommend the brand to their friends.
Increase customer lifetime value. Customers that stay longer will spend more - but happier customers also means increased basket spend.


5 considerations to help you foster loyalty
Did you know that more than 90% of companies have some sort of loyalty programme? And more companies are jumping all the bandwagon. But not all loyalty programmes are created equal. So how can you make yours more stickly, and create truly loyal customers?
1. Personalise the experience
Personalisation is becoming a crucial play for loyalty, marketing, sales, product, and customer success teams; it's the only way to cut through the noise in a crowded marketplace.
Knowing your customer is key to delighting them. Put customer data to good use by leveraging it to deliver a more personalised experience. In fact, 87% of consumers are open to brands monitoring details of their activity if it leads to more personalised rewards.
To get ahead, brands must try to be personalised, relevant and timely; is it a customer's birthday or anniversary? Where and how did they last engage and what's their favourite product? Consider when would be the optimal time to try and engage them with an irresistible offer.
Brands that put the customer first will create the most loyal customers. Remember that nobody wants a generic message or to feel that they don't matter to a brand. The digital gift card industry in particular is in a position to benefit from and experiment with different forms of personalisation.
2. Deliver a superior experience, whatever the channel
People won't tolerate a bad digital experience so loyalty programmes need to ensure that redemption is seamless. Make it quick, easy and enjoyable for consumers to redeem their gift cards whether that's in store or online.
Keep in mind that today's consumers don't like to wait around. They demand speed. As Tesco's Paul Francis put it at the GCVA: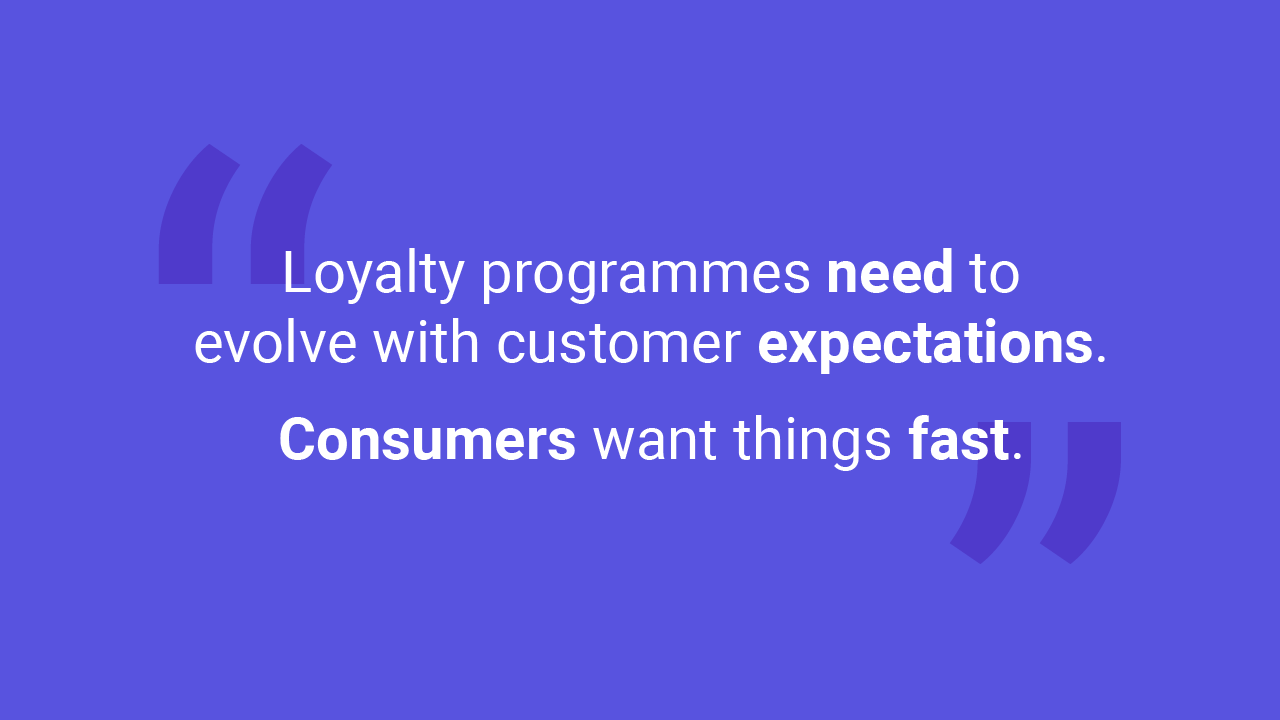 Indeed, the GCVA's State of the Nation Report found that 41% of gift card buyers in 2021 expected them to be usable across channels (this had increased significantly from 26% in 2020).
We'll likely see digital wallets become a significant part of loyalty programmes of the future so that consumers can spend gift cards effortlessly, whether they originally received them in physical or digital format.
3. Make human connections
The experience of receiving a gift card should be delightful from start to finish and tap into human emotions to be truly successful. In the words of Marion King "gift cards convey the message that money can't buy."
Gift cards help us fulfil the human need to give and receive, and the ability to add a personalised message is key. Gift cards are fast becoming a gift of choice - especially as choosing a particular brand can show someone that you know them well and remember what's important to them.
As brands compete for customers, those that focus on fostering a connection with their customers through loyalty will be at a significant advantage. There are a few reasons why you should consider a loyalty programme that uses gift cards over and above cash or discounts - and why gift cards are better at fostering an emotional connection with a brand:
Gift cards are more lasting memories. Whereas cash disappears "into the pot" to likely be spent on every-day expenses, gift cards are more likely to be used on luxury or indulgent goods.
There's less of a guilt factor. Much has been written about the guilt and pain we experience when we spend cash. However, knowing that the gift card was intended to be indulgent, the spender experiences less gift by paying with a gift card.
They're easier to talk about. Consumers are more likely to talk about what they spend their loyalty gift card on vs. what they spent their cash on - therefore sharing their emotional connection to a brand with others.
So it makes sense that this is what consumers have already told us they want - 76% prefer a gift card for staying loyal to a brand.
4. Pair the reward with recognition
A reward alone is not enough to foster long term loyalty - you need to design an experience that makes people feel valued. For example, pairing an employee rewards with recognition by presenting them with the reward in front of their colleagues so that it means more and they feel more appreciated.
Think about how you can make customers feel valued as part of your loyalty programme - for example, you could gamify the experience or reward customers for having been a member on the anniversary of when they joined your programme. In your communications with them, thank them and tell them what they mean to your brand.
Sometimes a surprise is the best way to delight your customers.
5. Choices, choices, choices
Loyalty programmes that offer the greatest choice of brands for customers to choose from when they cash out points will fare best. Remember that your customers are diverse and have a diverse range of tastes and interests. So ensure you're able to offer customers a wide range of brands that people love.
Having more options for users to choose from will make your loyalty currency - and your programme - more desirable and valuable. This will benefit customer retention, engagement and acquisition; a win-win.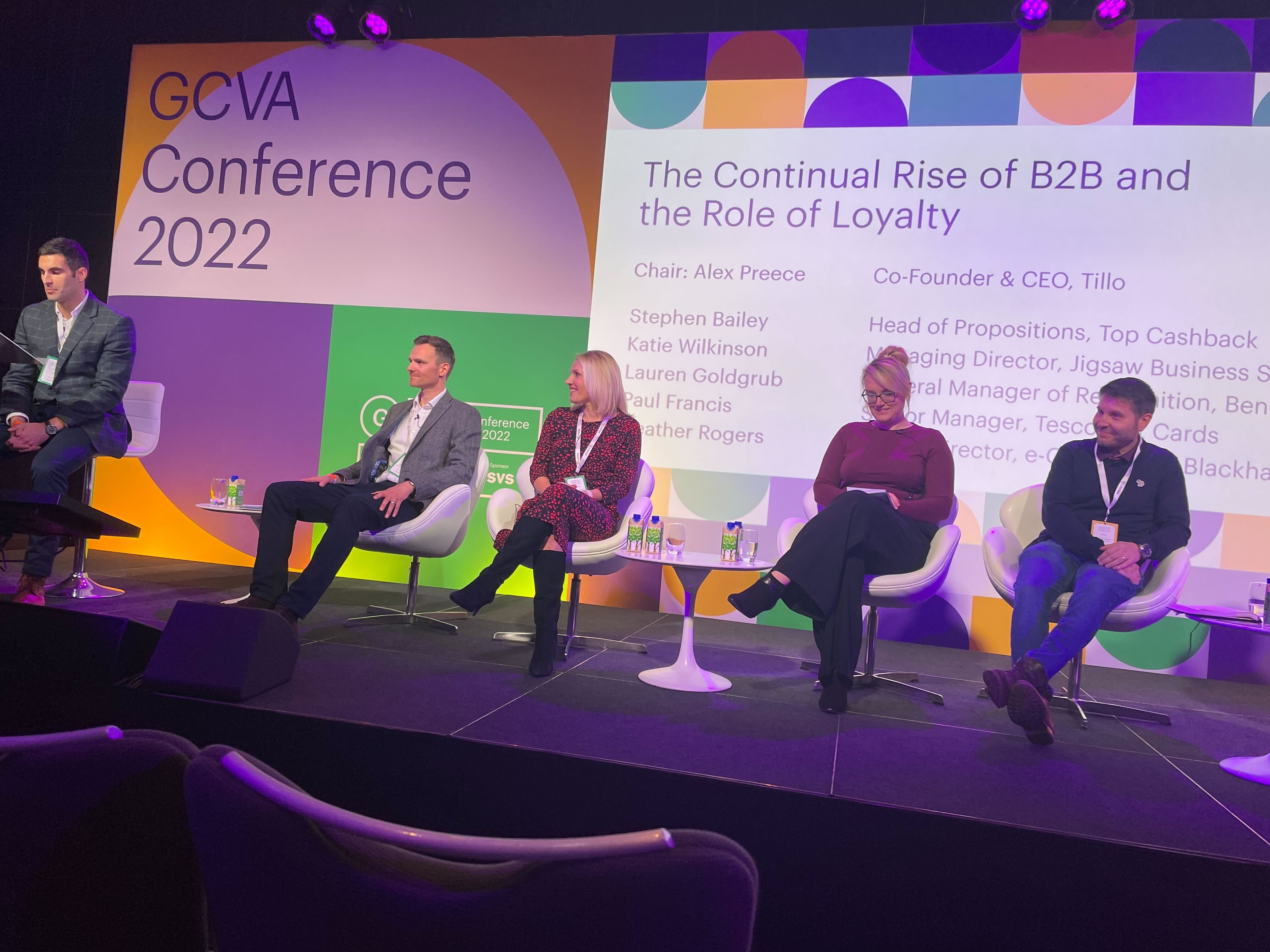 Loyalty panel discussion at the GCVA conference, March 2022. Chaired by Tillo CEO, Alex Preece.
Stand apart from the crowd
Digital gift cards are an agile, versatile tool to help you drive brand loyalty in 2022. But with only 44% of loyalty programme members saying that they are very satisfied with the programme, brands need to do more to personalise, drive a superior experience and provide the delight that customers are looking for.
Tillo is the loyalty, rewards and incentives platform for all of your digital gift card needs. We believe rewarding should be delightful every step of the way and we care about the experience of organisations using the platform as well as those receiving the rewards.