Learning and Development is about creating the right culture and environment for individuals and organizations to learn and grow.
As a fast-growing business, we are constantly improving to ensure we deliver excellence to our customers and our team. This year we are incredibly proud to have taken a major step forward in our commitment to fostering a culture of continuous learning and development here at Tillo: the launch of our new Learning and Development group, the Growth Lab!
Why did Tillo create the Growth Lab?
We created the Growth Lab, championed by our team of dedicated 'Growth Gurus', to ensure that Tillian's voices are heard, and their development needs are supported. The Growth Gurus are internal representatives who are ready to action employee suggestions and turn any ideas they may have into reality.
The importance of prioritizing a strong L&D program is often overlooked by scale-ups. Research from Talent Works confirms that 'a company is only as good as the people working within it, and therefore training your team and expanding their skillset could help your scaling business to go from strength to strength.'
The idea for a Growth Lab came from Hannah Saunders, our wonderful HR Business Partner.
"It is our exceptionally talented team that makes Tillo, and that's why it is essential that we nurture and allow room for that talent to flourish.

It is a common misconception that L&D requires lots of money to be thrown at it, but after speaking to some amazing people in my network, I realised we actually needed to start right back at the basics and revamp our learning culture entirely.

Some of the best training and expert knowledge was right under our noses- our people!

Culture isn't the sole responsibility of one person, so that's why I wanted to enlist a group of Growth Gurus, to help champion a learning culture, generate new ideas, and show that this really was to benefit our team, and not just a tick box exercise."

- Hannah Saunders, HR Business Partner

Bringing the Tillo Growth Lab to life!
Although the Growth Lab is a product of the People team at Tillo, it is also championed by our Senior Leadership team and guided by each and every Tillo employee.
Creating a culture requires input from everyone and a huge priority for us was that it needed to be for everyone. Before Hannah and I got carried away with making plans, we took a step back and created a survey to go out to all Tillians, asking what they want to learn about, who they want to learn from, and how they most like to learn.
Different people learn in different ways, and so for us to truly build a culture of Learning and Development, we had to have input from the team. 'A one size fits all approach simply doesn't work when it comes to training and developing a truly diverse workforce as individual employees won't necessarily have the same needs as their colleagues to progress their professional development.'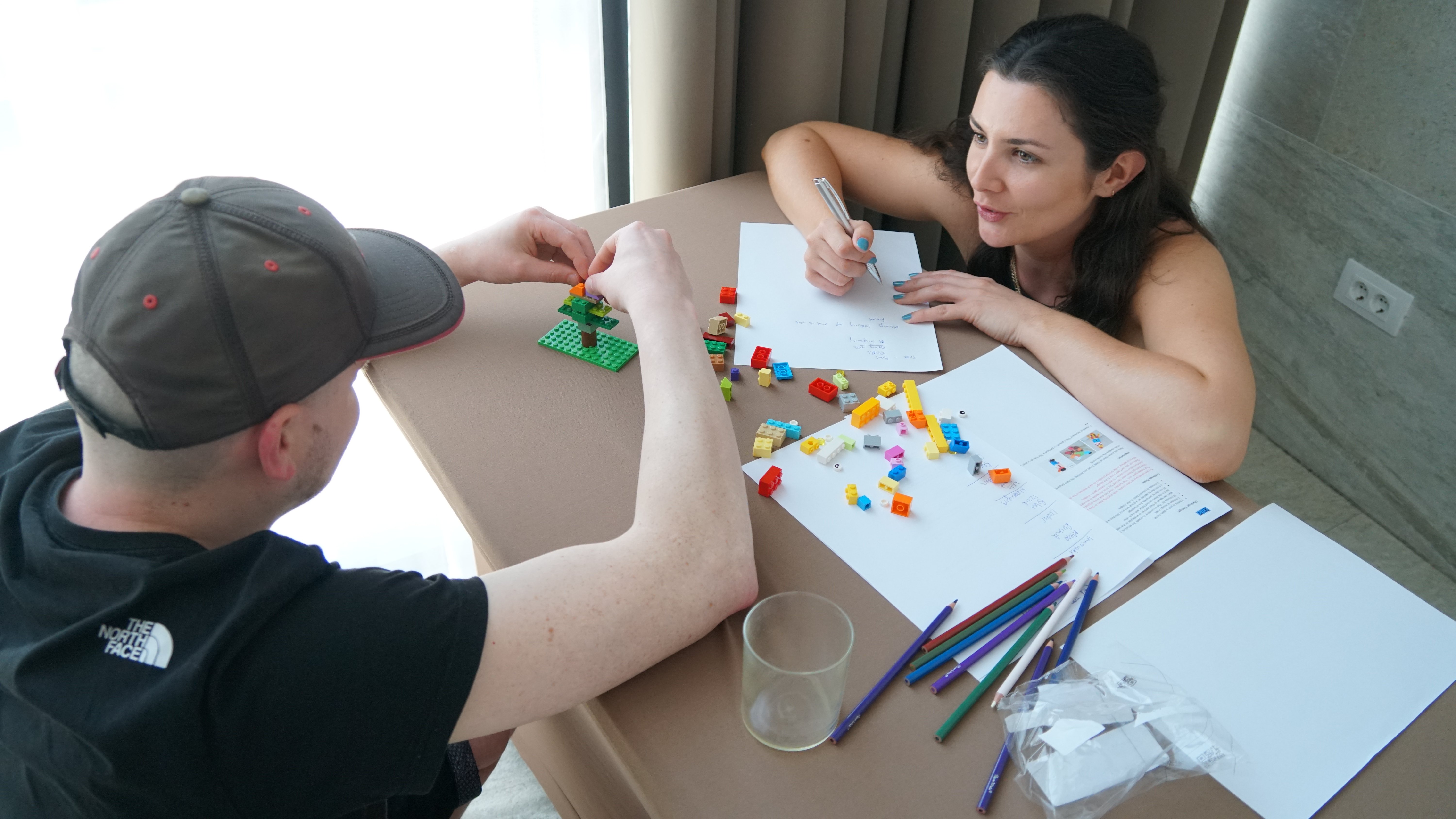 Unpacking Learning and Development at Tillo
We kicked off the launch of Tillo's L&D Growth Lab with a highly requested panel discussion featuring our Senior Leadership Team.
In front of a live audience and streaming to Tillo employees globally, we put the most senior members of Tillo in the spotlight, giving employees a chance to ask those at the top of Tillo how they got to where they are today, what their L&D journey looked like, if they have any advice for prioritizing growth both inside and outside of work, and anything else in between!

Here are a few snapshots from the discussion:
"I neglected a lot of my learning while I was at school, so I left it until a bit later on in life. Now I invest a lot in my own development - having coaches and surround myself with people I can learn from. I think we should all be learning, we should all push ourselves to be the best we can possibly be and the only way to do that is by investing in yourself. You can't fill others buckets up, without filling your own first!"

- Alex Preece, CEO & Co-Founder of Tillo
"I've worked in a lot of companies in this sector; the learning I've taken away is the importance of culture. It's massively undervalued at a lot of companies, and we take it very seriously."

- David Wall, VP of Sales UK & EU
"The biggest lesson I've learned in my almost 7 years at Tillo is to be adaptable, when I joined there were 6 of us there's now 90+. It's been steady growth, which has been a great learning curve for me. We have changed and will continue to change."

Martyn Fagg, COO
It was so insightful and inspiring to hear from Alex, Lee, David, Rob, Martyn, and Sharon on this SLT panel - we're very lucky to have such a supportive and passionate leadership team!
What's Next for Tillo's Growth Gurus?
Tillo is made up of extremely talented individuals, so why not share that knowledge?
The Growth Gurus have many exciting things in the making, all designed to inspire, educate, and facilitate employee growth and development. These include organizing workshops and events, creating valuable L&D resources, and consistently promoting a culture of knowledge sharing that aligns with Tillo's core values.

We'll be working with employees across the business to host events and create company resources, so whether an employee wants to improve their skills in an area directly related to their role or wants to learn about something brand new, they can do so easily through the Growth Lab.
We are so excited to see how our culture continues to develop at Tillo as we grow into new markets; stay tuned for more exciting updates!
If you're looking to join a team that prioritizes L&D, take a look at our current vacancies or get in touch with me, Sara Knott, to find out more about life at Tillo.